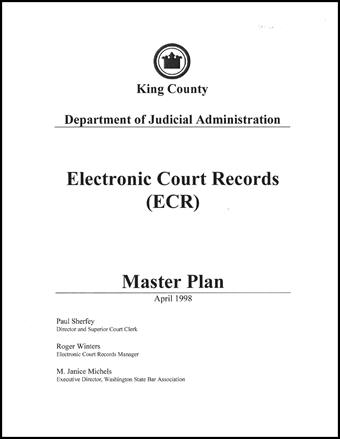 The ECR Program in King County owes a great deal of its success to its
Master Plan.

In the 1990s, visionary leaders in the King County Clerk's Office saw the economic and procedural efficiency that an electronic court record could provide. This vision was implemented via a guiding Master Plan.
The Master Plan provided a useful and prescient framework for planners and participants over the ECR Program's extended development period. The Master Plan helped ECR managers stay focused, helped prevent scope creep, and it provided resources when problems arose.
Similar to a strategic plan, the ECR Master Plan set the mission and vision of the ECR Program. The Master Plan included defined goals and strategies, and identified project management and stakeholders. The Master Plan also included known issues and risks, as well as early cost/benefit analyses.
The ECR Program was developed over a period of several years, and the Master Plan provided stakeholders with a guide that clearly defined the links between the mission of the Clerk's Office and the project to transition from paper to an electronic court record.