20th Anniversary Celebration
KCDDC: 20 Years of Changing Lives!
A national model of smart, compassionate government, recently the King County Adult Drug Diversion Court (KCDDC) program celebrated its 20th anniversary and nearly 2,050 graduates. About 70% of participants who opt in complete this innovative program that provides treatment and supportive services to adults charged with drug-related felonies. Graduates earn a dismissal of their criminal charges and can rebuild their lives, reconnect with families, and re-enter their communities as productive employees, volunteers, parents, mentors, and role models. "If I am sober, I have a chance," Macklemore said. "If I'm not, I don't."
The KCDDC program addresses the root causes of incarceration to break the cycle of recidivism. It is a less expensive and more effective way to treat addiction than simply locking up drug addicts. It costs more than $50,000 per year to house an inmate at the King County Jail. Alternatively, a July 2013 report found reductions in crime related to KCDDC program participation translated into a net benefit to taxpayers of $22,000 per participant, or a $4 return for every $1 invested.
KCDDC's 20th Anniversary Celebration
KCDDC's 20th Anniversary Celebration brought together participants, graduates, friends, family and some very special guests to celebrate the accomplishments of many. Program supporters filled the largest courtroom in the King County Courthouse on October 14, 2014, as participants, graduates, friends and family were treated to heartfelt words of joy, encouragement and gratitude from past graduates, elected officials, past and current judicial officers, and one very special local guest: Ben Haggerty, the award-winning Seattle rapper Macklemore.
King County Executive Dow Constantine recognized KCDDC as a cost effective and compassionate government program that helps people charged with drug-related felonies rebuild their lives and give back to their communities.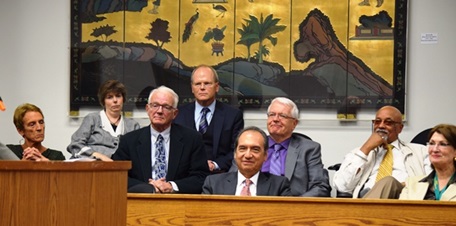 Judicial officers and elected officials were in attendance at KCDDC's 20th Anniversary Celebration to show their support for King County's longest running therapeutic court. Pictured left to right, front row: Honorable Ricardo Martinez, Honorable Cheryl Carey. Middle row: Honorable Nicole MacInnes (retired), Honorable Michael Fox (retired), Honorable Michael Trickey, Honorable Wesley Saint Clair. Back row: Honorable Susan Craighead, Dan Satterberg (Prosecuting Attorney).
King County Councilmember Kathy Lambert detailed the important role KCDDC plays in keeping families together. Drug Court breaks the cycle of addiction and supports parents in recovery from drug addiction, helping them to provide safe and loving homes for their children.
Watch the complete 20th Anniversary Celebration - Tuesday, October 14, 2014 (KCTV)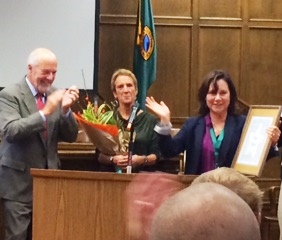 Mary Taylor, KCDDC Program Manager, is honored for her 16 years of outstanding leadership.
King County Councilmember Larry Gossett pointed out that by acknowledging drug addiction as a root cause of incarceration and allowing successful program graduates to earn a dismissal of their felony charges, KCDDC helps to make a positive impact in Black and Latino communities where males are disproportionately incarcerated.

US District Court Judge Ricardo S. Martinez spoke of his efforts to start the program 20 years ago, along with the tireless advocacy and heartfelt support by then King County Prosecuting Attorney Norm Maleng.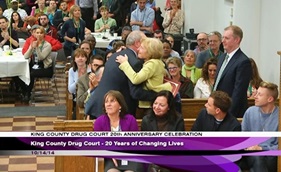 Judy Maleng, wife of the late King County Prosecuting Attorney Norm Maleng, shares a moment of remembering with Prosecuting Attorney Dan Satterberg. Shortly before his death in May 2007, Norm Maleng addressed a group of KCDDC graduates, telling them how proud he was of their stories of recovery and redemption. "That is why each of you is a blessing in my life."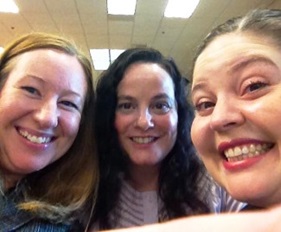 King County Public Defenders (l-r) Amy King, Pat Valerio, Haydee Vargas attended the celebration to show their support. Public Defense Attorneys play an integral role on the drug court team.