Lorinda Youngcourt
King County Public Defender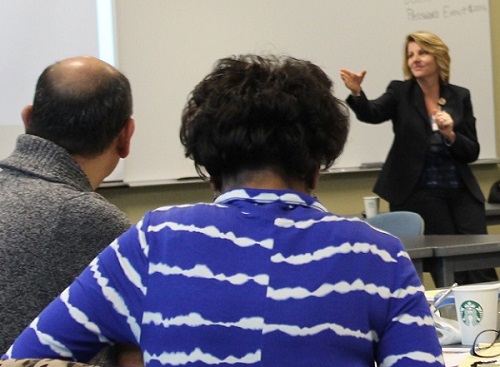 Lorinda Youngcourt is a frequent trainer, both within the department and at public defense institutes and seminars around the country.

Lorinda Youngcourt began working as King County's Public Defender on Jan. 20, 2015, and was confirmed to a four-year term by the King County Council on March 2. She heads the Department of Public Defense, which provides legal services to people who cannot afford an attorney but are accused of a crime or face other legal issues.
Lorinda has worked as a criminal defense attorney for more than 25 years. She has extensive experience representing clients facing the death penalty in both state and federal courts. Lorinda has been heavily involved at the national level of public defense, serving on the steering committee for the National Association for Public Defense and being active in the National Association of Criminal Defense Lawyers. She came to King County from Lawrence County, Indiana, where she was appointed to create and lead the first office of indigent services, replacing an antiquated system of underpaid private attorneys hired and fired by local judges.
She chaired the Indiana Public Defender Council, a statutory agency that provides support services to the 1,300 public defenders in Indiana and plays a statewide leadership role on issues of criminal justice. She has also taught at the Indiana University School of Criminal Justice, the Indiana Trial Practice Institute and the National Criminal Defense College at the Mercer School of Law. She received her law degree from Indiana University School of Law in 1988.
Lorinda brings to King County a deep commitment to quality public defense, a passion for the importance of a trained and talented defense bar and a strong voice for the rights of individuals who are often marginalized in our communities. She serves on the board of directors for the Washington Defender Association.
Lorinda is often available to speak about public defense to civic organizations, classrooms and advocacy groups. Contact Victoria Gonzalez-Minter at vgonzalezminter@kingcounty.gov if you'd like her to speak to your group.
Lorinda Youngcourt

King County Public Defender
Lorinda Youngcourt
If you'd like to invite Lorinda or someone else from the Department of Public Defense to speak to your organization, please send your request to DPD at dpd@kingcounty.gov.