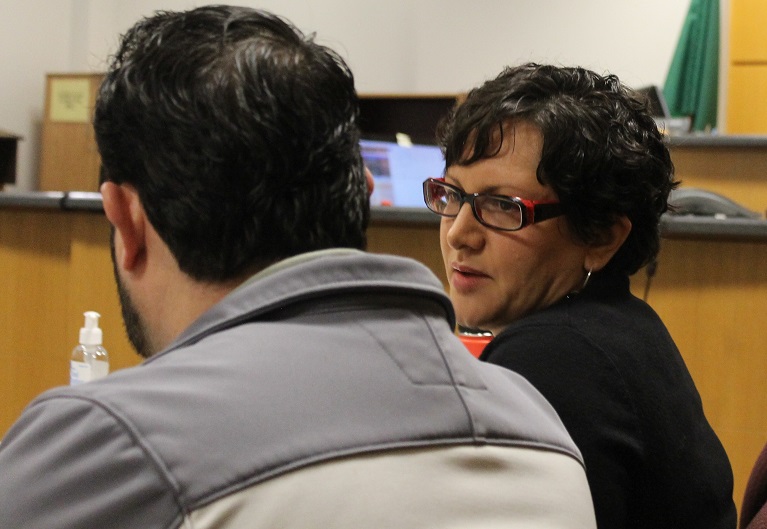 Public defender Felicia Wartnik talks to a client in King County Superior Court.
Public defense in King County has earned a national reputation for excellent legal representation, commitment to meaningful caseload standards, use of therapeutic courts, and other client-centered services. DPD provides legal representation to indigent clients in several practice areas, including felonies, misdemeanors, juvenile offenders, dependencies, involuntary commitment, civil commitment of sexually violent predators, and contempt of court. The Department also works to address racial disproportionality in the criminal justice system, the collateral consequences of justice involvement, and other structural and/or systemic issues that undermine the rights of the criminally accused.
It employs not only attorneys, but also skilled investigators, mitigation specialists, paralegals, and other support staff. Expert services are regularly funded, in keeping with state court rules. King County public defense has also been a leader in the development of diversion alternatives to support clients who have entered or are at risk of entering the justice system due to drug involvement, mental illness, or other issues.
The Department is often looking for highly committed and well-qualified candidates. Open positions in our Department along with the application tool can be found on the King County employment website located here.
If you do not find an open position for your skill set, we encourage you to complete a "Job Interest Card" which is accessible via the King County jobs website address, see link titled Job Notifications. The interest card will ensure that you're notified electronically when positions that correspond with your interests are posted in the future.
Interested in employment at DPD?
For questions about specific job postings at DPD, email Mary Louis, DPD's human resource manager, at
mary.louis@kingcounty.gov
.
Interim King County Public Defender
Anita Khandelwal
If you'd like to invite Anita or someone else from the Department of Public Defense to speak to your organization, please send your request to DPD at dpd@kingcounty.gov.