Step Up: Course Curriculum
Building Respectful Family Relationships
About the Curriculum
The Step-Up curriculum was completed in 2004, after six years of developing and field testing exercises and activities in Step-Up groups. The authors/program developers continued to adapt the curriculum, making changes and developing new sessions as they continued to learn from families and new research. In 2015, they wrote a revised 2nd Edition of the Step-Up curriculum, which is now posted on this website. (See History of the Development of Step-Up, 2nd Edition Curriculum and Review Program Materials)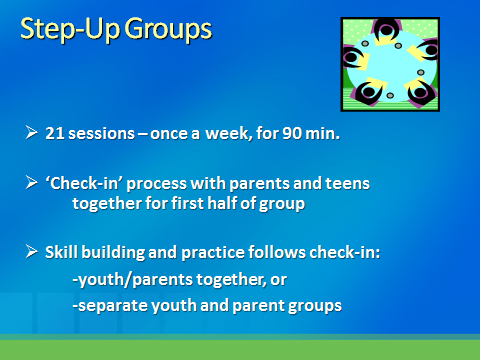 The Step-Up is designed to be used in a group setting with youth and their parent(s) or caretaker(s). The curriculum uses a cognitive behavioral, skills based approach to help teens stop the use of violent and abusive behaviors and learn nonviolent, respectful ways of communicating and resolving conflict with family members. Restorative practice methods are used to help youth understand the impact of their behavior on their families, develop empathy and take responsibility for their hurtful behavior. Restorative dialogue is used between the youth and parent to address the violence and restore family relationships.
The curriculum also includes materials for a parent group where parents learn how to respond to violence in the home, get support from other parents and gain new skills for parenting teens that promote respectful relationships.
The curriculum is designed to include parents at the beginning of each group session for 'check-in' and then separate into a parent group and teen group, or stay together for the session to work on learning a skill together.

The curriculum has 20 sessions designed to be 1.5 to 2 hrs once a week. Facilitators may vary the timing to accommodate the needs of the group. It is designed as a closed group, but can function as an ongoing group as well. King County uses the curriculum with an ongoing group. Ongoing groups have the advantage of newcomers learning from participants who have been attending longer.

Parts of the Step-Up curriculum can be used in family or individual sessions when group work is not an option, although the benefits of group work significantly increase effectiveness of the intervention (see 'Why Group Counseling').