Early Intervention System: Better use could improve accountability
January 24, 2017
The Early Intervention System (EIS) in the King County Sheriff's Office (KCSO) uses time and resources but is not achieving many of its potential benefits. Early Intervention Systems are meant to identify early signs of problematic officer behavior and facilitate intervention before larger issues arise. KCSO's EIS, however, is not designed or applied in a way that achieves these benefits. KCSO has not taken opportunities to continuously improve the functioning of its EIS, or the department overall, with information available through the system.
Status
Of the 9 recommendations:
| | | |
| --- | --- | --- |
| DONE | 0 | Recommendations have been fully implemented. Auditor will no longer monitor. |
| PROGRESS | 2 | Recommendations are in progress or partially implemented. Auditor will continue to monitor. |
| OPEN | 7 | Recommendations remain unresolved. Auditor will continue to monitor. |
| CLOSED | 0 | Recommendation is no longer applicable. Auditor will no longer monitor. |
Summary
Law enforcement accountability and performance are important to King County and the public for ethical and financial reasons. Over the past five years the County has paid over $21 million in legal claims related to actions by King County Sheriff's Office's (KCSO) employees. Early Intervention Systems (EIS) are tools with the potential to improve officer performance, wellness, accountability, and risk management. If properly used, an EIS can help an agency address problematic behaviors before they lead to serious consequences. This audit assessed the effectiveness of KCSO's EIS and identified barriers to its success.
The EIS as implemented at KCSO is not achieving its full potential. KCSO's EIS design limits its ability to detect the subtle issues that would make it most useful. For instance, KCSO's EIS alerts notify commanding officers of concerning behavior using data from only the last 90 days, a much shorter period than best practice. The EIS ability to detect problematic behavior is further compromised by its reliance on a limited range of information and lack of consideration of different working environments. The EIS is also underused with commanding officers handling alerts inconsistently, key supervisory staff not receiving alerts, and much of the valuable data it collects going unused. KCSO does not have an adequate framework in place to address the flaws of the system, resulting in the EIS using valuable resources while not clearly addressing goals.
To enhance the effectiveness of the EIS, we recommend that KCSO revisit the 90-day alert threshold as well as other components of EIS design which prevent it from detecting subtle issues or distinguishing among officers by work environment. We also recommend that KCSO establish procedures to improve the consistency of alert responses, update alert processes to more directly involve front-line supervisors, and identify opportunities to evaluate and respond to trends using data from the EIS. We also make recommendations to ensure that KCSO can continuously improve its EIS to achieve agency goals.
Reports related to this audit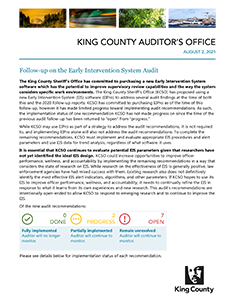 August 2, 2021
Download the report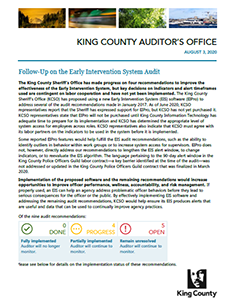 August 3, 2020
Download the report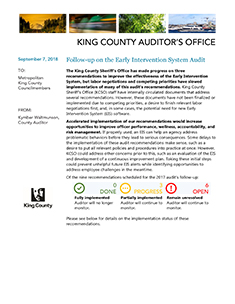 September 7, 2018
Download the report
Click on the image(s) below to view related reports.
Audit team
Kayvon Zadeh and Kymber Waltmunson conducted this audit. If you have any questions or would like more information, please call the King County Auditor's Office at 206-477-1033 or contact us by email KCAO@kingcounty.gov.