King County Eviction Prevention and Rent Assistance Program
Department of Community and Human Services
King County has created a new $41 million program to assist households economically impacted by the coronavirus.
Our region faces a looming eviction crisis of unprecedented scale. Tens of thousands of King County residents are at increased risk of eviction because of the ongoing pandemic and its effects which include illness, loss of income and unemployment.
King County is responding by rapidly deploying a new rent assistance and eviction prevention program in partnership with community organizations to help those who have been unable to meet rent obligations and are at risk for eviction.
The King County Eviction Prevention and Rental Assistance Program closed all tenant and landlord interest forms to new entries on Friday, December 4, 2020 at 5pm PST, in order to allow time to process tenants and properties ahead of the December 30, 2020 expenditure deadline. The program is not accepting additional tenants or properties to the lotteries or waitlists at this time. Should funding become available in 2021, the program may reopen.
---
Eviction Prevention Rent Assistance program eligibility will be based on the following information:
Tenant Application
Landlord Rental Debt Certification
Tenant Income Documentation (if tenant does not have documentation, they can self-certify)
The King County Eviction Prevention and Rental Assistance Program does not require Social Security Numbers or Individual Taxpayer Identification Numbers from tenants.
If you have questions about immigration status or public charge federal policy, you can go to the website of the Northwest Immigrant Rights Project.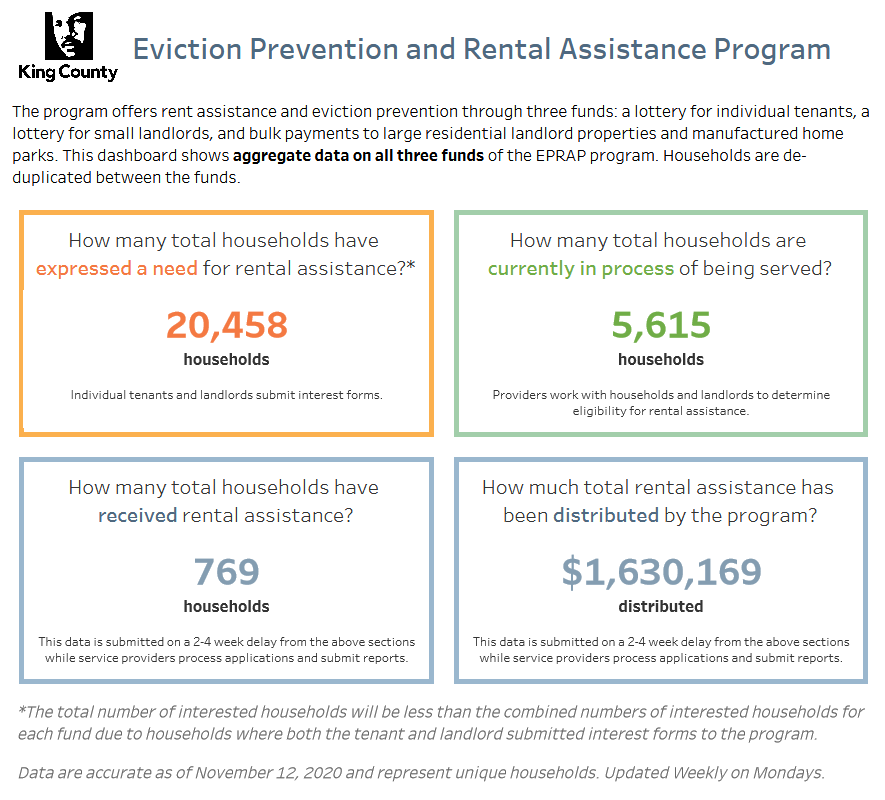 Data about the EPRAP
The program offers rent assistance and eviction prevention through three funds: a lottery for individual tenants, a lottery for small landlords, and bulk payments to large residential landlord properties and manufactured home parks.
General Information About EPRAP
Additional Info, FAQ and Updates