Annual Legislative Forum
Developmental Disabilities and Early Childhood Supports Division
The King County Developmental Disabilities Legislative Forum is an opportunity to educate elected officials on issues that are important to the intellectually and/or developmentally delayed or disabled (I/DD) community. This is done through sharing King County's I/DD legislative priorities, and also by having our community members share their personal stories as they relate to the priorities. This annual event celebrated 32 years in 2021. The Forum was recorded with live interpretation and is available for viewing in four languages: Cantonese, English, Somali, and Spanish.
For More Information
Contact Hope Lopez
Confidential Secretary
Learn More about the 2022 Legislative Priorities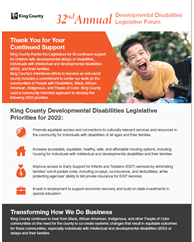 King County thanks the Legislature and the community for its continued support for children with developmental delays or disabilities, individuals with intellectual and developmental disabilities (I/DD), and their families. King County's intentional efforts to become an anti-racist County includes a commitment to center its work on the communities of people with disabilities and Black, African American, Indigenous, and People of Color. King County used a community informed approach to develop the 2022 priorities.
Download an infographic summary Here!

Download a text-only summary below:
King County asks the Legislature to prioritize advancing equity in resource access and service delivery, and take these actions in 2022:
Promote equitable access and connections to culturally relevant services and resources in the community for individuals with disabilities or delays of all ages and their families.

Increase language access by funding interpreters and translators to receive specialized training in disability issues.

Fund cultural navigation statewide to support access and engagement with available services.

Invest in a workforce reflective of communities served, to more effectively support individuals with disabilities and delays. Emphasize strategies for recruitment, retention, culturally responsive training, and career pathways for Black, African American, Indigenous, and People of Color providers and leaders.

Increase access to recreational, social, and other community supports to promote health, inclusion and belonging.




Increase accessible, equitable, healthy, safe, and affordable housing options, including housing for individuals with intellectual and developmental disabilities and their families.






Improve access to Early Support for Infants and Toddlers (ESIT) services by eliminating families' out-of-pocket costs, including co-pays, co-insurance, and deductibles, while protecting agencies' ability to bill private insurance for ESIT services.

Invest in employment to support economic recovery

and build on state investments in special education.
Increase the rate for Employment and Day Program services to support provider sustainability and growth and help get people

with I/DD back to work.

Implement the recommendations identified in the State Transition Collaborative's

January 2021 report

to improve transition outcomes for students

with I/DD who are leaving high school.

This includes expanding School-to-Work statewide, establishing data sharing with state agencies, and supporting students and families to learn about transition services and resources.