Fish kill in Vashon's Quartermaster Harbor is linked to harmful algae bloom
Summary
As many as 25,000 acres of King County's farms and forests would be protected from development under an innovative partnership proposed by King County Executive Dow Constantine to transfer rural development rights into Seattle's Downtown and South Lake Union for increased urban density.
Story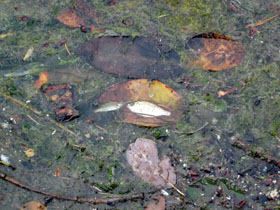 King County scientists believe that a toxic bloom of marine algae, spurred to growth by the recent warm weather, is the likely culprit in a die-off of fish this week in the calm waters of Vashon Island's Quartermaster Harbor.
Following up on a tip from a Vashon-Maury Island resident, scientists with the King County Environmental Laboratory observed several hundred dead and dying shiner surfperch in the harbor on July 17.
Lab staff collected water samples from both the inner and outer portions of Quartermaster Harbor. Tests conducted on the water samples at the County's lab in Fremont revealed dense concentrations of the phytoplankton Heterosigma akashiwo – a harmful algal bloom species that has been linked to fish kills.
Although Heterosigma often blooms in Puget Sound during the warm summer months, most blooms are not concentrated enough to cause fish kills. However, there have been several large blooms in northern Puget Sound in recent years that did lead to fish deaths.
In addition to samples collected by King County staff, samples have also been collected by volunteers from the SoundToxins Program – a group formed through a partnership of Washington state shellfish and finfish growers, environmental learning centers, Native American tribes and Puget Sound-area volunteers.
The program's mission is to provide early warning of potential harmful algal bloom events in order to minimize both human health risks and economic losses to Puget Sound fisheries.
People who observe colored water near a fish kill are encouraged to collect a water sample and contact SoundToxins, so testing can determine what organism is present.
Field scientists with the King County Environmental Lab collect samples from marine and fresh waters, industries, wastewater treatment plants, and land application sites. Environmental scientists analyze those samples, and data from the analyses are validated and stored on a database containing nearly 40 years of environmental data. Learn more on the website.
Related information
King County Water and Land Resources