Snoqualmie Valley farmland saved, rural economy boosted, under King County plan
Summary
A proposal put forth today by King County Executive Dow Constantine to acquire historic Snoqualmie Valley farmland hints at what the County hopes to accomplish on a much wider scale in years to come.
Story
A proposal put forth today by King County Executive Dow Constantine to acquire historic Snoqualmie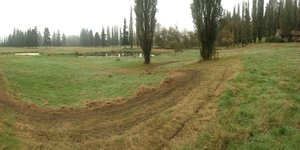 Valley farmland hints at what the County hopes to accomplish on a much wider scale in years to come.
"This year we achieved our goal, preserving 200,000 acres of working forest in King County. Now it's time to reinforce the wall against sprawl protecting our remaining farmland, which has been slowly eroded by successive waves of suburban development," Executive Constantine said.
The Executive is proposing King County purchase the 191-acre "Tall Chief" property north of Fall City for $4.54 million. Funding for the purchase would come from the County's Conservation Futures Tax fund.
In the future, thanks to a recent agreement with the City of Seattle, King County plans to use revenue from the sale of development rights to preserve farmland.
Just last month, Skanska USA Development, Inc., broke ground on a project in South Lake Union with increased square footage by purchasing development rights from King County that were previously acquired from the 90,000-acre Snoqualmie Tree Farm.
Beginning in the early 1900s, the Tall Chief property was home to one of the Snoqualmie Valley's original dairy farms. A golf course was built on the property in the 1950s but closed several years ago. A new proposal to build a subdivision on the land ran into significant opposition from area farmers and others, who were concerned that the development would harm nearby farming operations.
"The Tall Chief property is a keystone in our ongoing work to preserve rural communities, strengthen rural economies and grow our local food supply," Executive Constantine said. "If this vacant land was allowed to be developed into homes, rather than returned to working farmland, there would have been significant pressure for neighboring farmland to also be converted into homes."

Executive Constantine's proposal to protect this property fits hand-in-hand with a broader vision to concentrate growth in vibrant urban areas while simultaneously protecting rural farm lands that supply cities' farmers markets, restaurants, and retailers with fresh locally grown food.
"Protecting valuable opening space from turning into a sub-division will serve our community in perpetuity, preserving natural beauty and agricultural and rural character of the area," said Councilmember Larry Phillips, chair of the Council's Transportation, Economy, and Environment Committee. "Securing robust agricultural activity here also means a close-by, high-quality source of farm-fresh goods for the dozens of farmers markets that the residents of King County so strongly support."
"Preserving farmland in King County means protecting farming jobs and maintaining the character of rural areas," said Councilmember Kathy Lambert. "This was an important issue to the people of my district and to everyone in King County. I'm pleased that we were able to work together to come to a unifying decision."
This past September, the Seattle City Council and the King County Council approved an agreement allowing developers in Seattle to purchase 800 rural density credits worth $18 million from farm and forest lands, in exchange for increased development capacity in South Lake Union. These credits will result in the protection of 2,000 acres of farmland and 23,000 acres of forestland.
Skanska is the first developer to purchase density credits under the innovative program that transfers the development rights.

King County will apply all the proceeds from the transfer of the forest development rights toward the protection of local farmlands such as Tall Chief.
The belt of rural farmland wedged between the urban edge of cities like Woodinville, Redmond and Sammamish and the green expanse of Cascade timberlands is under tremendous development pressure to convert from farming to sprawling residential development.