Executive: One Million Trees partnership will combat climate change, help neighborhoods
Summary
King County Executive Dow Constantine today announced a new partnership to plant a million trees by the end of 2020. The One Million Trees campaign is aimed at combatting climate change while improving neighborhoods and communities countywide.
Story
A small Douglas fir planted in White Center Heights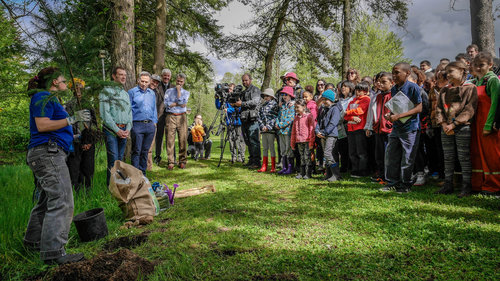 Park this morning signaled the start of a multi-year partnership led by King County Executive Dow Constantine to plant one million trees countywide by 2020 – an effort to combat carbon pollution, while improving neighborhoods across the county.

"By mobilizing the community to plant one million trees across King County, we will reduce carbon pollution and produce healthier forests, streams and neighborhoods," said Executive Constantine. "It's an ambitious project – one that will help ensure our region remains a national leader in the effort to confront climate change."

Part of King County's Earth Month commemorations, the Executive was joined at the kickoff of the One Million Trees campaign by leaders from Forterra, The Nature Conservancy, Mountains to Sound Greenway Trust, The Nature Consortium, and The Boeing Company, – each of whom has committed to planting trees and expanding the partnership.
The event served as an invitation for community groups, schools, non-profits , tribes, local businesses, donors, volunteers, residents and cities and other public agencies across King County to join the One Million Trees effort as it mobilizes to plant trees and promote healthy forests.
Studies show significant tree cover disparities in low income versus high income neighborhoods in King County, and as the region starts to experience higher temperatures from the changing climate, planting trees is known to be one of the best natural strategies for cooling urban heat islands.
It is still early in the campaign, with partners coming together to coordinate existing efforts, identify priority geographies, and outline action plans for stewardship and public education and engagement. Most tree-planting efforts across the region take place when more favorable planting conditions arrive in the fall.
Planting one million trees by 2020 is a target action in King County's 2015 Strategic Climate Action Plan, a road map for how King County is reducing carbon pollution, increasing transit, protecting open spaces, and preparing our communities for the impacts of a changing climate.
Healthy forests and trees contribute to clean air and water, healthy habitat for salmon and other wildlife, and more livable communities – and nowhere are the benefits of healthy forests more evident than in the Pacific Northwest.
A recent U.S. Forest Service study on the role of forests in combatting climate change revealed that, acre for acre, native Pacific Northwest temperate forests store more carbon than forestland found nearly anywhere else in the world.
King County is not alone in emphasizing the importance of healthy forests and trees; this year in fact, the Earth Day Network launched a new global effort to plant 7.8 billion trees worldwide, one for every person on the planet, by April 22, 2020 – the 50th anniversary of Earth Day.
Sign up to receive updates about the campaign at https://kingcountyparks.org/1-million-trees/.

"Boeing is continually focused upon improving the environmental performance of our products and reducing the environmental impact of Boeing operations and facilities in our communities," said Steve Shestag, Director of Environment, Health and Safety at The Boeing Company. "But equally important to us is our partnership with communities and conservation groups on projects like this, since their intricate knowledge of environmental, community and business issues combined with their ability to bring people together to make real environmental improvements like the one million trees planting campaign is what great environmental leadership is all about."

"Efforts like us all coming together to plant a million trees, clean our air, fill up our Sound with clean, cool water, also give us a new path forward to ensure this place thrives long into the future," said Jessie Israel, Puget Sound Conservation Director for The Nature Conservancy.