King County's Petrovitsky Park play area reopens following safety repairs
Summary
King County Parks has reopened the play area at Petrovitsky Park, in the Fairwood community east of Renton, after repairing flooring to ensure visitor safety.
Story
A play area at King County Parks' Petrovitsky Park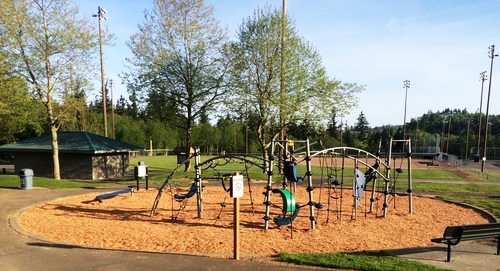 in Fairwood now features a thick layer of wood chips and meets safety standards for play area flooring material. The former flooring, which was a "poured-in-place" material, no longer met safety standards.
The wood chips are an interim measure until the play area is renovated in 2019. Alternative flooring materials will be evaluated as part of the design during renovation.
King County Parks conducts regularly scheduled safety evaluations of every play area within its 200 parks, to ensure the play areas meet all safety standards and are in good working order.
In addition to two playground areas, the 88-acre Petrovitsky Park also features baseball and soccer fields, as well as a picnic area. The park is located at 16400 SE Petrovitsky Rd. in the Fairwood neighborhood.
# # #
About King County Parks
King County Parks - Your Big Backyard - offers more than 200 parks and 28,000 acres of open space, including such regional treasures as Marymoor Park and Cougar Mountain Regional Wildland Park, 175 miles of regional trails, 215 miles of backcountry trails and a world-class aquatic center. By cultivating strong relationships with non-profit, corporate and community partners, King County Parks enhances park amenities while reducing costs.