National Farmers Market Week comes at peak of King County's local produce season
Summary
With National Farmers Market Week coming Aug. 7-13, King County Executive Dow Constantine encourages everyone to visit any of the 41 farmers markets across the county, where the freshest and healthiest fruits, vegetables and other locally grown and made food are available.
Story
Get your reusable tote bag ready!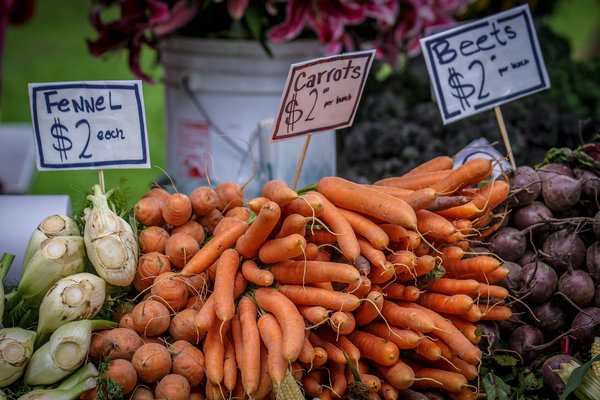 National Farmers Market Week is Aug. 7-13 – just in time for the peak season of fresh and nutritious locally grown fruits and vegetables, along with a variety of other foods from the dozens of farming operations here in King County.
"Locally grown food can't be beat, and I encourage everyone to eat healthy, with fruits, vegetables and other foods at their summer finest," said King County Executive Dow Constantine. "Shopping regularly at one of King County's 41 farmers' markets is also a great way to strengthen our local farm economy and ensure we protect farmland."
According to the Farmers Market Coalition, small- and mid-sized farmers who sell at farmers markets have a greater chance of staying in business than those selling through traditional channels.
Additionally, farmers markets provide a low-barrier entry point for new farmers, allowing them to start small and grow their operation over time. This is particularly important, given that there are three and a half times as many farmers over the age of 65 as there are under 35.
And farmers markets are a key part of Executive Constantine's Local Food Initiative to better connect farmers and consumers, support farming and protect farmland, and increase the access to healthy and affordable foods across King County.
Learn more about King County's farmers markets, including market schedules, what's new and more at the Puget Sound Fresh website, http://www.pugetsoundfresh.org/.
Many markets in King County accept EBT cards and the Fresh Bucks program for low-income shoppers. Find all the farmers markets accepting EBT cards on the Washington State Farmers Market Association website, http://wafarmersmarkets.org/.