Seattle-area watershed partners celebrate 10 years of salmon recovery efforts, plan for the next decade
Summary
Discussions at the 2016 Salmon Summit focus on how to increase chinook salmon populations in Lake Washington, Lake Sammamish and the Cedar River
Story
More than 100 scientists, natural resource managers, restoration professionals,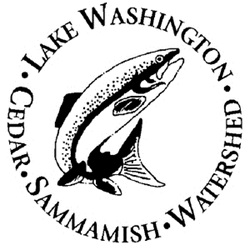 outreach and education practitioners, nonprofit partners, and elected officials from Seattle and the surrounding area participated in the 2016 Salmon Summit, held today at the Mountaineers Program Center in Seattle.

A primary purpose of the summit was to bring the watershed community together to celebrate and reflect on the last decade of effort to recover chinook salmon in the Lake Washington/Cedar/Sammamish Watershed also known as Water Resource Inventory Area 8 (WRIA 8).

Participants learned about the latest scientific research related to local chinook salmon populations, habitat protection and restoration projects, and the status of funding for salmon recovery.

The summit also focused on discussing priorities and conservation strategies for the next 10 years of salmon recovery. This discussion will inform the update to the WRIA 8 Chinook Salmon Conservation Plan planned for 2016-17, which serves as the science-based road map for recovery actions in the area.

First released in 2005, the plan will lay the groundwork for the next 10 years of chinook salmon recovery projects, programs and research. Implementation of the WRIA 8 Plan is guided by the Salmon Recovery Council, which includes representatives from 28 local government partners, citizens, community groups, state and federal agencies, and businesses.

The day-long event was hosted by WRIA 8, which coordinates planning and implementation among 28 local government partners to protect and restore chinook salmon habitat in the Seattle-area watershed. Presenters discussed successful habitat restoration projects, including:
• Rainbow Bend Floodplain Restoration on the Cedar River
• Removing the Issaquah Hatchery Dam
• Lake Washington shoreline restoration
• Restoring creek mouths along Puget Sound
• Restoring off-channel habitat on the Sammamish River in Bothell
• Outreach and education programs, such as Salmon SEEson.
"We've accomplished much in the last 10 years, and learned many lessons. Today we heard from the broader watershed community about priorities and approaches to guide our actions moving forward," said Jason Mulvihill-Kuntz, WRIA 8 Salmon Recovery Manager. "Salmon recovery is a long-term commitment, and continuing the collaborative partnership among local partners is critical."

"Salmon recovery in this watershed has galvanized local communities. I am proud of the partnership between local governments that is working to implement common priorities and I am proud of how much has been accomplished," said Larry Phillips, Former King County Council Chair and WRIA 8 Salmon Recovery Council Chair.

"People recognize that working to protect and restore habitat for salmon and watershed health is essential to our region's vitality, health, and identity. If we are to keep the Pacific Northwest a place where people want to live and work, we need to build on our successes and strengthen our resolve to recover salmon," said Andy Rheaume, Bothell Mayor and current WRIA 8 Salmon Recovery Council Chair.
# # #