King County seeks public review, comment on Eastside Rail Corridor trail draft master plan
Summary
King County is moving ahead with plans to build a new regional trail on the Eastside to better connect communities and offer more mobility options - and public input is an essential part of the upcoming planning process.
Story
As planning continues for a new regional trail in King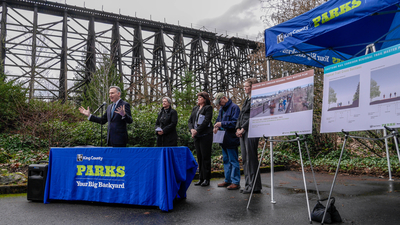 County's Eastside Rail Corridor from Renton to Woodinville, Executive Dow Constantine is asking for the community's input on trail alignment choices and design features they'd like to see.
"We're expanding one of the nation's premier trail systems to better connect Eastside neighborhoods, and want the public to help us design it," said Executive Constantine. "I encourage residents to take this opportunity to share their ideas for a new multipurpose trail that will be enjoyed by walkers, runners and cyclists for generations to come."
Standing in the shadow of the Wilburton Trestle, the century-old wooden railroad bridge that once carried lumber and freight – and will one day carry a regional trail with walkers, runners and cyclists – Executive Constantine announced the release of a draft trail master plan and environmental impact statement (EIS) for a new regional trail stretching more than 16 miles along the Eastside Rail Corridor.
A month-long public review and comment period begins today, Feb. 29, and three public open houses have been scheduled in March, when interested citizens can talk in detail about the draft master plan and EIS for building the new trail.
Specifically, the draft master plan and EIS explore two alternatives for locating a trail in the Eastside Rail Corridor, and describe the project's potential effects on the environment, nearby properties, transportation, and other impacts. The documents also show different approaches to accommodate the potential use of transit – including links to high-capacity transit - power utilities, or both, in addition to a trail within the corridor.
Community members can review details of the Draft Master Plan and EIS and share comments at these open houses:
Woodinville
Thursday, March 17 - 5-7 p.m.
Woodinville City Hall, 17301 133rd Ave. NE
Woodinville, WA 98072
Renton
Tuesday, March 22 - 7-9 p.m.
Kennydale Elementary School
1700 NE 28th St.
Renton, WA 98056
Bellevue
Thursday, March 24 - 5-7 p.m.
Bellevue City Hall
450 110th Ave. NE
Bellevue, WA 98004
Public comments can also be provided online, at kingcounty.gov/erc, via email, at ERCtrail@kingcounty.gov or by mail to:


King County Parks, Attn: Erica Jacobs
201 S. Jackson St., MS: KSC-NR-0700
Seattle, WA 98104
All comments received on the draft master plan and EIS during the comment period and open houses will be reviewed and included in the formal comment record for consideration. The comment deadline is 5 p.m. on March 31.
Copies of the draft master plan and EIS available now
In addition to being available to view or download online at kingcounty.gov/erc, printed copies of the draft master plan and EIS are also available for review at the public libraries in Bellevue, Kingsgate, Newcastle, Newport Way, Renton Highlands, downtown Renton and Woodinville.
About the Eastside Rail Corridor Regional Trail Master Plan
The Eastside Rail Corridor is part of a 42-mile rail line that was owned by Burlington Northern Santa Fe Railway Company (BNSF). The corridor extends from Renton to Snohomish, passing through Bellevue, Kirkland, Woodinville, and portions of unincorporated King County. It also includes the Redmond Spur, which extends south from Woodinville to Redmond.
When BNSF announced it would sell this corridor—now known as the Eastside Rail Corridor—King County and several cities and public agencies came together to preserve the corridor and place it in public ownership. These partners are collaborating to plan for the future of this important multi-use corridor.
# # #
About King County Parks
King County Parks - Your Big Backyard - offers more than 200 parks and 28,000 acres of open space, including such regional treasures as Marymoor Park and Cougar Mountain Regional Wildland Park, 175 miles of regional trails, 215 miles of backcountry trails and a world-class aquatic center. By cultivating strong relationships with non-profit, corporate and community partners, King County Parks enhances park amenities while reducing costs.