New name for Cougar Mountain trailhead honors open space advocate Harvey Manning
Summary
A trailhead at King County Parks' Cougar Mountain Regional Wildland Park has been renamed to honor Harvey Manning, noted open space preservationist and prolific hiking guidebook author, whose advocacy led to the creation of King County's largest park.
Story
Anti-Aircraft Peak Trailhead at King County's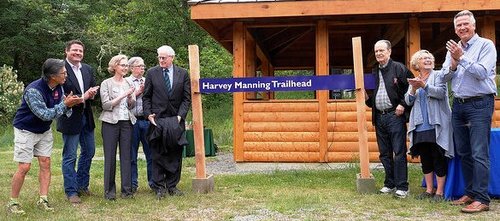 Cougar Mountain Wildland Park has been renamed in honor of Harvey Manning, the longtime open space advocate and hiking guidebook author, who for years fought to preserve the foothills of eastern King County as public open space.
"The impact that Harvey Manning had on King County's landscape is quite evident when looking at a map, or simply looking out the window of a car as it travels along Interstate 90 from Bellevue to Issaquah and beyond – past thousands of acres of protected public open space," said King County Parks Director Kevin Brown.
"Without Harvey's persistent and persuasive advocacy, instead of lush low-elevation forestlands, those hillsides might very well be covered in subdivisions."
"It is an honor and a privilege to attach Harvey Manning's name to this beautiful park, where we can all come to enjoy the natural splendor of King County," said King County Councilmember Reagan Dunn, whose district includes portions of Cougar Mountain and other popular public open spaces nearby.
Cougar Mountain is the westernmost outpost of the "Issaquah Alps" – a phrase Manning coined, and it is where he lived. He was a founding member of the Issaquah Alps Trails Club, and served as their first president.
Club representatives were on-hand at today's trailhead dedication ceremony, as were King County Senior Deputy Executive Fred Jarrett, former Executive Randy Revelle, who was in office when the park on Cougar Mountain was created, and Larry Phillips, former King County Councilmember and a longtime open-space advocate who worked with Harvey Manning on a number of occasions.
"Harvey founded the Issaquah Alps Trails Club in 1979, leading hikes, wrangling with politicians and saving thousands of acres of lowland forest on Cougar, Squak, Tiger, Taylor and Rattlesnake Mountains, the wild backyard of Seattle-Bellevue urban areas," said Karl Forsgaard, a board member of the Mountains to Sound Greenway.

"Harvey wrote of the lowlands and 'wilderness within' in his four-volume Footsore series. Later, he helped launch the Mountains to Sound Greenway, linking and protecting green lands along the I-90 corridor. He is one of my heroes."

Cougar Mountain Regional Wildland Park is the largest park in King County Parks' 28,000 acres of parks and open space. Encompassing more than 3,100 acres, Cougar Mountain features deep forests and waterfalls, plus three dozen miles of hiking trails.
Anti-Aircraft Peak Trailhead got its name from the Cold War-era missile installation that was placed upon the high ground some six decades ago. Anti-Aircraft Peak will retain its name.
Manning died in 2006.
# # #
About King County Parks
King County Parks - Your Big Backyard - offers more than 200 parks and 28,000 acres of open space, including such regional treasures as Marymoor Park and Cougar Mountain Regional Wildland Park, 175 miles of regional trails, 215 miles of backcountry trails and a world-class aquatic center. By cultivating strong relationships with non-profit, corporate and community partners, King County Parks enhances park amenities while reducing costs.