King County awarding $500,000 in grant funds for historic barn preservation
Summary
King County is reviving its 'Barn Again' historic barn preservation and restoration program, with grant funding available and workshops coming later this year.
Story
Historic barns are highly visible icons of King County's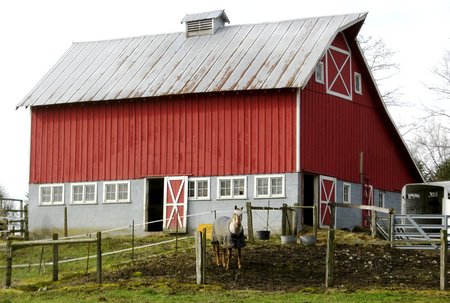 farming heritage – familiar elements of rural landscapes that convey both a sense of place and traditional building methods.
Many of these cherished community landmarks are threatened. Changes in farming practices, high maintenance costs and development pressures are among the challenges property owners face as they strive to maintain historic barns.
King County's Historic Preservation Program has re-launched its "Barn Again" historic Barn Preservation Program, which was last funded in 2008, and now has up to $500,000 in grant funding available for qualified projects.
"People who own historic barns and outbuildings in King County are the stewards of our shared history, and it is exciting to work with them to help stabilize and rehabilitate these structures through the 'Barn Again' program," said King County Councilmember Kathy Lambert, whose district has many wonderful and highly visible historic barns.

"We are excited to once again have the opportunity of helping preserve historic barns and agricultural structures – many of which still play vital roles for farmers," said King County Historic Preservation Officer Jennifer Meisner. "The funding will go a long way toward preserving these important structures and help keep many of them in agricultural use – or allow new uses to be established in them."
The first of two competitive grant rounds begins this spring, with up to $250,000 in funding available for qualifying projects. Another $250,000 will be available in spring 2017.
The program is funded through King County and 4Culture's Building for Culture Initiative, which leveraged early payoff of Kingdome debt to provide significant funding for cultural facilities and historic properties throughout the county.
To be eligible for funding, barns, outbuildings, and agriculture-related community spaces, such as grange halls, must still convey their historic character, be more than 40 years old, located in King County and in need of substantial repair. Grant awards are anticipated to be in the range of $5,000 to $75,000 for projects that extend the life of the building and retain historic features.
Eligible projects include repairs to roofs, foundations, walls, structural frameworks and building systems.
Grant guidelines and application forms are available on the Historic Preservation Program website, at https://www.kingcounty.gov/property/historic-preservation.aspx.
Applications are due May 2. King County Historic Preservation Program representatives are hosting a series of free workshops where interested barn owners can learn more about the application process and get assistance planning viable scopes of work.
Workshops are scheduled for:
• March 29, 12:30 - 1:45 p.m. at Carnation Library, 4804 Tolt Ave., Carnation
• April 5, 12:45 – 2 p.m. at Vashon Library, 17210 Vashon Hwy. SW, Vashon Island
• April 12, 12:30–1:45 p.m. at Black Diamond Library, 24707 Roberts Dr., Black Diamond
For more information, contact Todd Scott, King County Preservation Architect, todd.scott@kingcounty.gov or 206-477-4545.