West Point Treatment Plant restoration update for Thursday, Feb. 23, 2017
Summary
The work to restore full operations at the West Point Treatment Plant continues at maximum staffing levels around the clock. Light precipitation expected over the next several days suggests no emergency bypasses of stormwater and wastewater will be necessary from the treatment plant in the near term.
Story
Steady progress in restoring full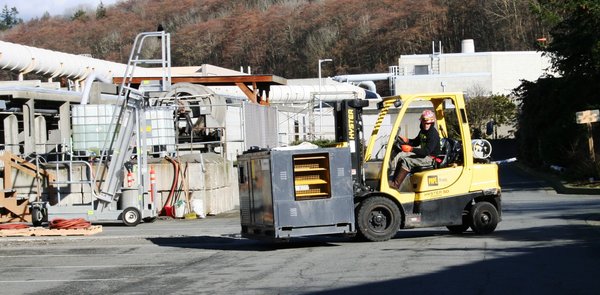 operations at the West Point Treatment Plant continues by crews working 24 hours a day at this key piece of King County's clean-water infrastructure, which sustained an equipment failure early on Feb. 9 during a period of record rainfall.
The forecast for several more days of light precipitation means that any additional emergency bypasses of highly diluted stormwater and wastewater from the plant are unlikely in the near term. No emergency bypasses have occurred at the plant since early on Feb. 16.
Wastewater treatment is continuing at the plant, including screening, some solids settling and disinfection.
Treated wastewater is being discharged through the plant's deepwater outfall, which is roughly three-quarters of a mile offshore on the bottom of Puget Sound where currents provide continuous dilution.
The plant has capacity to provide limited wastewater treatment for up to 250 million gallons per day – nearly double the amount needed to treat an average day this time of year, but well below the plant's designed capacity of 450 million gallons per day.
Progress report for Feb. 23:
Employee safety is the top priority, and crews follow rigorous safety protocols that King County has put in place to ensure worker safety. Work is being done carefully and methodically.
• Significant additional cleaning and sanitizing is required of the lowest below-grade levels of the treatment plant. These portions of the plant contain large storage areas containing various spare parts, including gaskets, pistons and other motor and engine parts. There are currently 20 people working in two teams to tackle this cleaning and sanitizing, and plant managers are anticipating bringing in at least 50 to 100 more workers this weekend to complete the work as soon as possible.
• Two teams of eight mechanics each are working at rehabilitating motors and pumps throughout the treatment plant.
• Heating, ventilation and cooling demolition work is progressing. Plant restoration leaders noted that these systems sustained significant damage throughout flooded portions of the treatment plant.
• Electrical demolition and assessment is at 55 percent complete plant-wide. Temporary heaters, blowers and ventilation systems have been installed in the tunnels where a wide array of electrical and mechanical equipment is located. These temporary systems will help dry out the tunnels to expedite electrical restoration activities.
• King County engineers are working on the design and replacement of electrical panels, and consulting engineers are assisting in electrical restoration throughout the plant.
Upcoming weather:
The current weather forecast through the end of the week calls for light scattered rain and snow showers. Heavy rainfall amounts of one inch or more within several days in Seattle could lead to an emergency bypass of highly diluted stormwater and wastewater from the West Point plant.
West Point currently has capacity of providing limited wastewater treatment to roughly 250 million gallons per day. This is nearly twice the capacity needed to safely treat all of the stormwater and wastewater the plant receives on an average day for this time of year.
Keep up to date:
Stay informed about restoration work at the West Point Treatment plant. Visit the incident response page, and sign up for email updates, and follow on social media:
• Twitter: https://mobile.twitter.com/kingcountyWTD
• Facebook: https://m.facebook.com/kingcountywtd
• Instagram: https://www.instagram.com/kingcountywtd/
• Blog: https://kingcountywtd.com/
• Flickr: https://www.flickr.com/photos/kingcountywtd/albums/72157680592134346
# # #