'Don't Drip and Drive' free 'No Leaks' event Jan. 12 at Puget Sound Skills Center
Summary
A free auto leaks inspection service is hosted by the "Don't Drip and Drive" pollution awareness campaign, Burien and the Puget Sound Skills Center Automotive Technology Program to help you spot any maintenance problems and recommend tips for maintaining your vehicle in top condition and keeping our environment clean.
Story
All vehicle owners are welcome to the free No Leaks event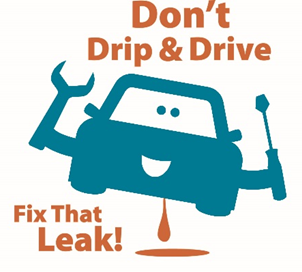 hosted by the Puget Sound Skills Center (PSSC), Thursday, Jan. 12, from 8-10 a.m. or 11:15 a.m. to 1:30 p.m. at 18010 8th Ave. S, Burien. Drivers will get a free leak check, multi-point vehicle inspection and recommendations for any repairs needed.

The Automotive Technology Program is offering the No Leaks event as part of their community service supported by the City of Burien.
"This is a great service," said Mary Eidmann, stormwater specialist with City of Burien. "The Puget Sound Skills Center helps young people build their careers and this gives them a chance to give back, too. The program is so popular among students that it runs at full capacity with a waiting list each semester."
The PSSC helps high school juniors and seniors earn college credits in a hands-on, workplace-oriented environment. The PSSC is one of 20 skills centers in Washington, offering high quality, tuition-free technical and professional training. Operated by Highline Public Schools, PSSC has students from 22 partner high schools in Highline, Federal Way, Tukwila and Tahoma school districts.
Find other upcoming workshops at www.fixcarleaks.org.

This pollution prevention effort is funded by a Washington State Department of Ecology grant, and participants include King County, Pierce County, Seattle Public Utilities, Futurewise, cities throughout Washington, local businesses, and ASA Northwest, AAA, and EnviroStars members.