King County Parks' Big Backyard 5K, June 11 in Marymoor Park, features kids' dash and more
Summary
Join with friends, family, and fellow outdoors enthusiasts in a fun event that supports King County Parks – the Big Backyard 5K presented by Kaiser Permanente, June 11 at Marymoor Park. Sign up by March 31 to receive a special event hoodie at a reduced rate.
Story
The eighth-annual Big Backyard 5K presented by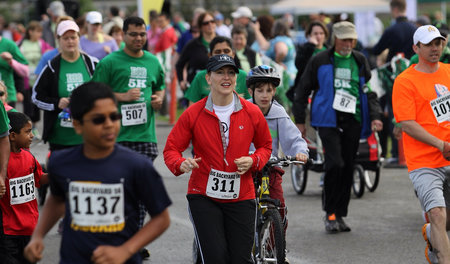 Kaiser Permanente, is set for Sunday, June 11 at King County's Marymoor Park.
This family-friendly event starts at 9 a.m., and takes participants through beautiful Marymoor Park at the northern end of Lake Sammamish. The course follows the Marymoor Connector Trail and a portion of the East Lake Sammamish Trail. The run is chip timed, and strollers and leashed dogs are welcomed.
"The Big Backyard 5K is a great opportunity to have some fun in Marymoor Park, and it's great having Kaiser Permanente as a presenting sponsor," said King County Parks Director Kevin Brown.
A free kids' dash featuring King County's river safety mascot Marta the River Otter follows the fun run at 10 a.m., and then it's time for post-event activities and awards ceremony at 10:15 a.m.
Now through March 31, for just $35, entrants will receive the popular BBY5K hoodie thanks to Harborstone Credit Union, an event t-shirt and bib-number, plus food, drinks, and more on race day. Youth registration is $20 for those 14 and under until June 8 and includes an event shirt.
Registration for the 2017 run is easy – sign up online at www.bby5k.com and learn about the various registration packages between now and race day. The Big Backyard 5K promotes fitness and community involvement, and has raised more than $250,000 for King County Parks in the past seven years.
Looking for more incentive to sign up? How about cash! Break the course record (15:32 for men, 19:36 for women), and you'll win $100.
Funds help leverage King County taxpayers' investment in parks, trails, and open space by keeping these features open and safe for all to enjoy.
# # #
About King County Parks
King County Parks - Your Big Backyard - offers more than 200 parks and 28,000 acres of parks and natural lands, including such regional treasures as Marymoor Park and Cougar Mountain Regional Wildland Park, 175 miles of regional trails, 215 miles of backcountry trails and a world-class aquatic center. By cultivating strong relationships with non-profit, corporate and community partners, King County Parks enhances park amenities while reducing costs. Learn more at kingcounty.gov/parks/.
About Kaiser Permanente
Kaiser Permanente is committed to helping shape the future of health care. We are recognized as one of America's leading health care providers and not-for-profit health plans. Founded in 1945, our mission is to provide high-quality, affordable health care services and to improve the health of our members and the communities we serve. Kaiser Permanente is dedicated to care innovations, clinical research, health education and the support of community health. Learn more at kp.org/share.
About Harborstone Credit Union
Harborstone Credit Union has branch locations in King, Pierce, and Thurston counties. As a community credit union, anyone in Washington State can join. We provide a full suite of financial services and are a trusted source of financial help for the membership we serve. Harborstone is committed to meeting our members' needs, and understand that convenience is key. Members have access to their accounts 24/7, with multiple ATM locations and Online Banking through their mobile and tablet devices. Learn more at Harborstone.com. Federally insured by NCUA.