West Point Treatment Plant restoration update for Friday, March 17, 2017
Summary
Work continues around the clock to return the King County West Point Treatment Plant to full wastewater treatment capabilities by April 30.
Story
Crews working seven days a week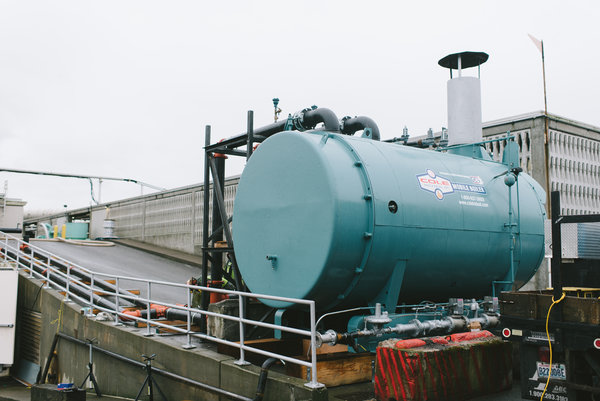 remainon track for restoring full wastewater treatment function at the West Point Treatment Plant by April 30 following an equipment failure in February that reduced the facility's wastewater treatment capabilities.
Wastewater treatment is continuing at the plant, including screening, some solids settling and disinfection. No emergency bypasses of highly diluted stormwater and wastewater into Puget Sound have occurred since Feb. 16 at the plant, and all beaches have been open since Feb. 21.
Progress report for March 17:
King County employees and contractors are working on a variety of projects at West Point this week, as they keep the plant on schedule for restoring full wastewater treatment operations at the facility by April 30:
• Existing and temporary boilers are coming online in stages, and the systems that are now online are functioning properly. Heat provided by the boilers warms the digesters that are key to bringing the West Point secondary treatment system online.

• The microbial life within those digesters is slowly coming out of hibernation as heat from the repaired and temporary boilers warms the digesters. West Point scientists have taken digester samples to determine their health and are preparing to start providing food from the primary tanks. Scientists report that in this controlled testing environment, when the samples show healthy chemistry and biology levels, they will be ready for their job of breaking down organic matter.
• Crews have removed all of the flood-damaged insulation that lines the extensive heated piping network within the plant, and new insulation installation is expected to be completed within one week.
• Workers are about 80 percent of the way through the job of replacing the motors that operate pumps within the plant – including supplying power to those motors. Repair work is on schedule to all of the equipment that is on the critical path for April 30 secondary treatment restoration.
• By the end of work today, crews will have completed installing replacement or temporary lighting throughout West Point's extensive tunnel system - where a significant amount of the plant's essential infrastructure is located. This makes work within the tunnel system safer, and helps speed equipment repairs and installation.
• Electrical switches and instrumentation panels that were damaged as a result of the Feb. 9 equipment failure and flood are installed as soon as they are repaired or replacement parts arrive at the plant.
Upcoming weather:
Rainfall in Seattle totaling one inch or more over two or three consecutive days could lead to an emergency bypass at the West Point plant of wastewater highly diluted by stormwater.
During heavy rainstorms when the volume of stormwater and wastewater flowing into the plant appears to approach the upper limit of its current treatment capacity, plant operators can avoid an emergency bypass by diverting some of the flow headed toward West Point to other wastewater treatment facilities.
Keep up to date:
Stay informed about restoration work at the West Point Treatment plant. Visit the incident response page, and sign up for email updates, and follow on social media:
• Twitter: https://mobile.twitter.com/kingcountyWTD
• Facebook: https://m.facebook.com/kingcountywtd
• Instagram: https://www.instagram.com/kingcountywtd/
• Blog: https://kingcountywtd.com/
• Flickr: https://www.flickr.com/photos/kingcountywtd/albums/72157680592134346