Convenient Trailhead Direct service wraps up successful first season Oct. 14-15
Summary
The final weekend of convenient transit van service to Issaquah Alps trailheads is here, and the two King County agencies that launched Trailhead Direct say the service will return next spring – possibly with serving more trailheads along the I-90 corridor.
Story
King County's Trailhead Direct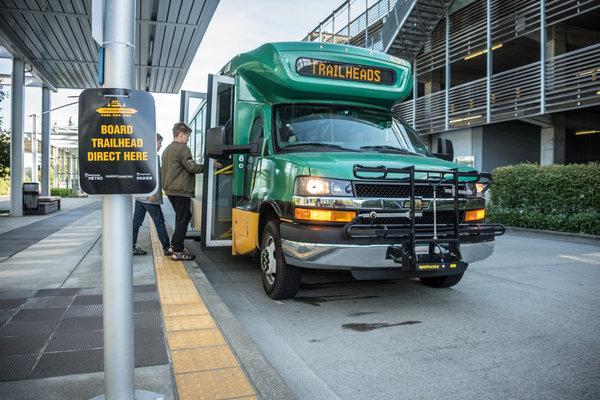 transit van wraps up its inaugural season of weekend routes from the Issaquah Transit Center to popular nearby hiking trails Oct. 14-15, following more than two months of convenient and reliable service to trailheads in the Issaquah Alps.
The pilot project was developed by King County Parks and the King County Metro Community Connections Program in response to growing vehicle congestion at several popular trailheads, where illegally parked vehicles along busy roads created significant traffic hazards and safety concerns.
The program resumes in spring 2018 – possibly with a service from North Bend Trailhead Direct parking locations to popular trailheads along the I-90 corridor, including trails on Mount Si and Mailbox Peak.
Program managers have developed an online survey to collect Trailhead Direct customer feedback on the service that will help fine tune next year's Trailhead Direct service. Take the survey at surveymonkey.com/r/TrailheadDirect.

Operating since Aug. 5 from the Issaquah Transit Center and averaging about 40 riders per day during its inaugural season, Trailhead Direct connects hikers to more than 5,000 acres of protected lands with 150 miles of hiking trails.

Stops are at the Margaret's Way trailhead at Cougar-Squak Corridor Park, the Poo Poo Point trailhead on West Tiger Mountain, then the East Sunset Way Trailhead in Issaquah, then the Issaquah Highlands Park-and-Ride before returning to the Issaquah Transit Center to begin another loop.
Trailhead Direct operates every 30 minutes between 7 a.m. and 6 p.m. Saturdays, Sundays and holidays. Riders pay regular ORCA fares.
Several important partners helped King County develop the pilot program, including Mountains to Sound Greenway, Washington Trails Association, The Mountaineers, Issaquah Alps Trails Club, Outdoors For All Foundation, TOTAGO (Turn Off The App - Go Outside!), REI, The Wilderness Society, Washington Department of Natural Resources, City of Issaquah, Si View Metropolitan Park District and the U.S. Forest Service.
For more information about Trailhead Direct visit kingcounty.gov/trailheaddirect.