King County Executive announces legislation to accelerate open space protection, improve regional trails and green space access
Summary
Increasing regional trail miles and links for improved mobility, health and recreation are among benefits highlighted by King County Executive Dow Constantine as he outlined an urgent case for the Land Conservation Initiative. The Executive proposed legislation today as an early action aimed at hastening open space investment and improving green space access for all communities.
Story
The Eastside Rail Corridor Regional Trail and other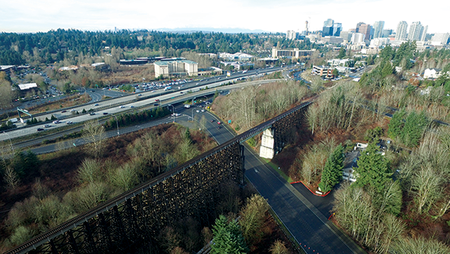 regional trails would benefit from legislation King County Executive Dow Constantine proposed today aimed at accelerating land-conservation investments so that all county residents have nearby access to green spaces.
The proposed legislation would increase the use of bond financing by raising the percentage of annual Conservation Futures Tax (CFT) revenues that could pay for new bonds, pulling forward nearly $148 million over the next four years to protect open and green space.
The Eastside Rail Corridor will connect Renton, Bellevue, Kirkland, Woodinville and Redmond — transforming non-motorized mobility and recreation on the eastside. Conservation Futures Tax funds will assist in acquiring key parcels to complete a connected corridor and provide new access at trailheads.
"Green space and open space, clean air and water, and opportunity for a quiet space to reflect, or a place to take an uninterrupted walk or watch our children play – these things are core to our health and our quality of life," said Executive Constantine. "If we want to improve these things for King County, then we need to make these investments in every part of our county before it is too late."
The legislation announced today is the first in a series of actions King County and its regional partners are taking in support of the
Land Conservation Initiative
, a campaign to preserve 65,000 acres of remaining vital and at-risk open space lands in King County within a generation (30 years), before the opportunity is lost due to population growth and development pressure.
The action would allow King County to access more of its revenue sooner so it can make investments before property is lost to development or the land becomes too expensive, including parcels for trail connections.
Future acquisitions made possible by increased funding through implementation of the Land Conservation Initiative will fill the gaps in the regional trail network, expand access to the future trail, and make key connections to transit.
Executive Constantine announced he is sending legislation to the King County Council on May 24 that would accelerate open space investments to protect the livability, health, and ecological integrity of King County for all residents.
The proposed Land Conservation Initiative ordinance would also remove the financial match requirements for acquiring new open space in communities where open space investments have been lacking, and have missed out on the health, quality of life, economic and environmental benefits associated with nearby green spaces.
The Executive also announced establishment of the Open Space Equity Cabinet, composed of community leaders and residents, to work with the county, cities, communities, and the Conservation Futures Tax citizen oversight committee to help guide investments that eliminate open space inequities.
Along with expanding and linking regional trails for region-wide mobility and recreation and ensuring green space access in communities with the greatest need, the Land Conservation Initiative vision includes saving farmlands, forests and river corridors across the county important to local economies, habitat, and enjoying the outdoors.
For more than 35 years government and non-profit groups across King County have used CFT funding to protect more than 100,000 acres of land, forests, shorelines, greenways and trails. Funding has supported such diverse projects as Seattle's Duwamish Head Greenbelt, development rights on the Snoqualmie Forest and Puget Sound shoreline in Burien.
From the tax of just a few cents per $1,000 of assessed property value (currently, 3.8 cents per $1,000) levied on property owners, lands have been purchased for new parks, salmon habitat restoration projects and other permanently protected open space to sustain quality of life.
But King County's population has nearly doubled from when the CFT was established in 1982. King County added nearly 50,000 people last year, and over the next decade will add upwards of 200,000 new neighbors.
Two years ago, in the face of a rapidly growing region, King County convened a wide range of experts to create a long-term strategy that would protect the most critical remaining farms, forests, and wildlife habitats from development, and will make neighborhoods more livable by connecting regional trails and creating more urban parks and green spaces.
The Land Conservation Initiative Advisory Group released its final report in January and affirmed an urgent need to finish the work of protecting the landscape by conserving roughly 65,000 acres of vital and at-risk lands within 30 years.
The report estimates the additional funding needed to protect these lands to be $1.9 billion when accounting for existing funding sources and 30 years of inflation and real estate appreciation. It concluded that accelerating the pace of land conservation to a single generation from a current trajectory of 75 years would save $15 billion and help ensure these important conservation lands are not lost to development.
Executive Constantine said the legislation and the Open Space Equity Cabinet are the first in a series of steps beginning in 2018 to maximize the resources King County has and signal its commitment to pursuing the LCI vision.
###
•
Land Conservation Initiative
website