Discovery Park beach and trail closures on Nov. 5 for work at West Point Treatment Plant
Summary
Scheduled maintenance work at King County's West Point Treatment Plant will require a 24-hour closure of the beach and nearby trails in Seattle's Discovery Park on Nov. 5, when odors could be detected near the plant.
Story
Work at the West Point Treatment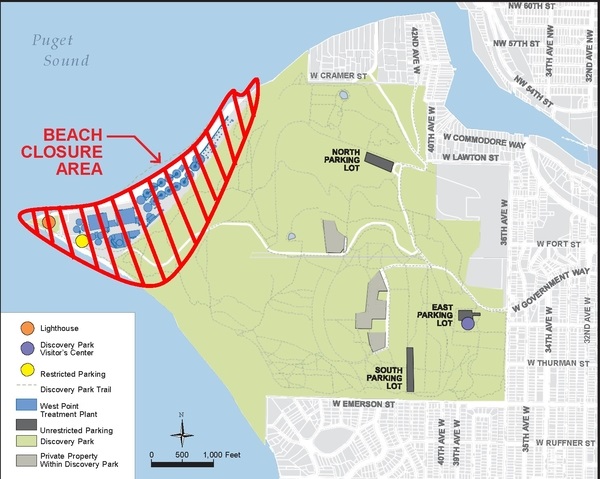 Plant's renewable energy system will require a 24-hour closure of beaches and beach access trails at Discovery Park in Seattle on Monday, Nov. 5.
Depending on weather conditions, a foul odor may be detected near the plant during controlled releases that are part of the maintenance work. King County scheduled the work for fall to minimize impacts to neighbors and park users. Air quality will be monitored throughout the work, which is scheduled to begin at 11:30 p.m. on Sunday, Nov. 4.
Access to North and South Beach, the lighthouse at Discovery Park, and the nearby beachfront parking lot area will be closed Nov. 5. Closure signs will also be posted on all roads and trails leading to the beach.
King County is working with the Seattle Parks Department and Seattle Police to minimize possible contact with biogas. A uniformed police officer will be on site to inform visitors of the closure.
The work includes replacing parts of the plant's biogas system that have come to the end of their engineered life. Completing the maintenance will maximize the plant's ability to generate renewable energy.
As part of the wastewater treatment process,
West Point Treatment Plant
generates electricity and processes heat from biogas. The process heat is utilized for space heating at the plant, while the renewable electricity generated is sold to Seattle City Light.
The plant generates around 23,000 Megawatt-hours of electricity each year from the biogas - enough electricity to power more than 2,000 homes. The repair work being done on Nov. 5 will enable West Point to generate more renewable electricity for Seattle residents to use in their homes.
This release is also posted on the Department of Natural Resources and Parks
website
.