Construction near Discovery Park trails to start August 19
Summary
Temporary trail impacts are expected as King County begins work at Discovery Park to upgrade existing underground water reservoirs for the West Point Treatment Plant as soon as August 19. Construction will affect Loop Trail and Capehart Trail during work on the reservoir and installation of a new outfall pipe.
Story
Trail users at Discovery Park may notice some temporary disruptions as contractors working on behalf of King County begin upgrading underground water reservoirs in Discovery Park as early as August 19.
Work is expected Monday through Thursday from 6 a.m. to 4 p.m. Temporary impacts to Loop Trail and Capehart Trail may include detours, intermittent closures and vehicles on trails escorted by flaggers. Materials and equipment will be staged near trails.
The project is expected to take three to five months.
Trees and vegetation removed for this project will be restored using plantings recommended by Seattle Parks and Recreation.
The reservoirs store drinkable water for the treatment plant, park and West Point Lighthouse. They also store service water for industrial uses at the plant. Crews will also install a 460-foot long pipe to carry excess water away from populated areas in the unlikely event of an overflow of potable (drinkable) water.
The reservoir upgrade work also helps King County protect public health by providing safe and efficient access for annual inspections required by Seattle Public Utilities, and by meeting current standards for protecting water sources.
For more information on this project, visit WTD's West Point project web page or contact Eunice Lee: elee@kingcounty.gov or 206-263-1614. To contact the 24-hour project construction hotline, call 206-296-7432.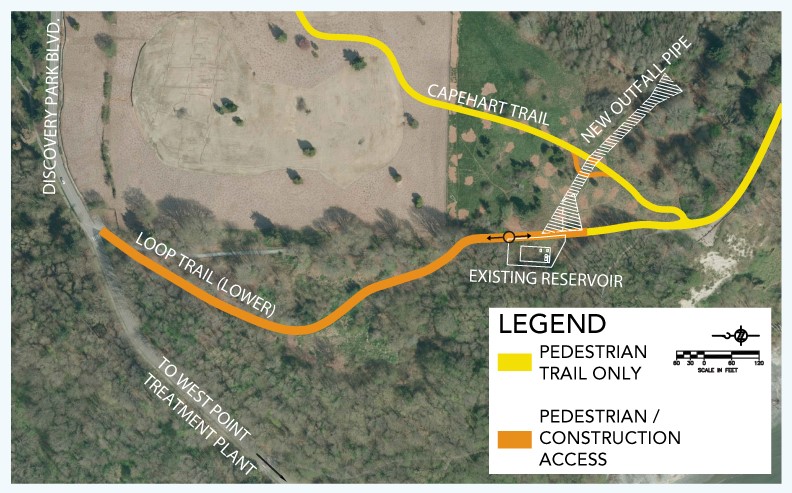 RELEVANT LINKS
FOR MORE INFORMATION, CONTACT:
Norm Mah, 206-263-0195
About the King County Wastewater Treatment Division
King County's Wastewater Treatment Division protects public health and enhances the environment by collecting and treating wastewater while recycling valuable resources for the Puget Sound region. The division provides wastewater treatment services to 17 cities, 17 local sewer districts and more than 1.7 million residents across a 420-square-mile area in King, Snohomish and Pierce counties.
# # #