CHOMP!, King County's local food celebration returns Aug. 17 to Marymoor Park with great food, live music and more
Summary
CHOMP! returns to King County's Marymoor Park on Saturday, Aug. 17, showcasing local food, green living workshops and activities for the whole family – and it's absolutely FREE. Music performers this year include legendary soul singer Mavis Staples, The Black Tones, Caspar Babypants, Eli Rosenblatt and more.
Story
Celebrate all that is fresh, delicious,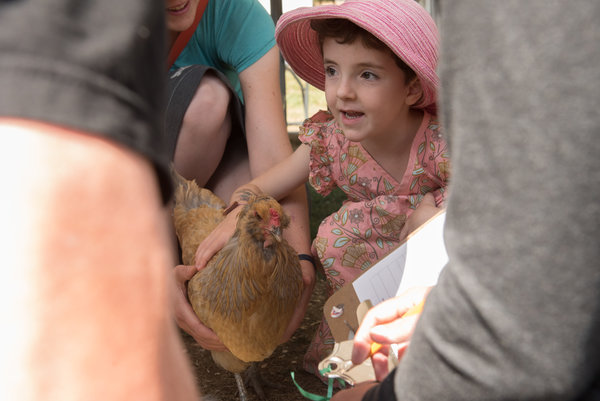 local and sustainable at CHOMP!, King County's annual festival of local food, sustainable living, and family fun. Enjoy great musical performances from Mavis Staples, Caspar Babypants and more at this free event at King County's Marymoor Park near Redmond, 10 a.m. to 6 p.m. on Saturday, Aug. 17.

Now in its fifth year, this fun, family-friendly event is hosted by King County Parks and features hands-on workshops, kids' activities, a farmer's market, live entertainment, and so much more. CHOMP! is a fun, all-day event that showcases King County's diverse food scene – including its many family-run farms.

Here is a preview of what's planned:
Free Music
• Mavis Staples
• Caspar Babypants
• The Black Tones
• Eli Rosenblatt
• Additional acts to be announced.
Fun for Everyone
• Recreational tree climbing
• An Interactive Labyrinth from Modern Daedalus
• A nest box building workshop with the King Conservation District
• Plant rubbing and card making with Wildness Within
• Get a chance to look up close at local wildlife tracks, cedar baskets, primitive fire kits, cattail mats, tanned hides and more with The Wilderness Awareness School
• Meet Ambassador Animals and learn about bee pollination from Woodland Park Zoo
• Zucchini Races with Viva Farms
• Petting Zoo featuring goats, chickens, bunnies, sheep and Kunekune pigs
• Upcycled Sock Puppet Marking with Seattle Recreative
• An Upcycle Bazaar
• Additional activities to be announced.
Featured Food
• Local Farmer's Market
• A Community Plate offering samples from a variety of local restaurants for one price.
• Food vendors including Standard Bakery, Patty Pan Cooperative, Black Star Kebab, La Crespella, and more to be announced.
CHOMP! supports King County Executive Dow Constantine's Local Food Initiative by celebrating local farmers, chefs and restaurants using locally-sourced food, and organizations specializing in healthy food, sustainability, and social justice.
The initiative is aimed at strengthening the local food economy and improving access to healthy, affordable food in underserved communities.
CHOMP! is produced by Artist Home, which produces such events as the successful Timber! Outdoor Music Festival at King County's Tolt-MacDonald Park in Carnation, Timbrrr! Winter Festival in Leavenworth, and Doe Bay Fest on Orcas Island. Artist Home is known for integrating unique natural settings into the event experience, and uniting music, community and nature.

For more details about CHOMP! and to sign up for e-mail updates, visit chomplocal.org, or follow updates via the event Facebook page, facebook.com/events/1918515711587139/.

RELEVANT LINKS

• CHOMP!
• Facebook
• Twitter
• Instagram
• King County Parks
• Artist Home
• Click here for a CHOMP! FAQ
• Click here for press approved photos
• Click here for press approved promotional video
• For press inquiries for artists performing at this year's festival, email kevin@artisthome.org.
• For other press inquiries contact Doug Williams, King County Department of Natural Resources and Parks, 206-477-4543
# # #
About King County Parks
King County Parks - Your Big Backyard - offers more than 200 parks and 28,000 acres of open space, including such regional treasures as Marymoor Park and Cougar Mountain Regional Wildland Park, 175 miles of regional trails, 215 miles of backcountry trails and a world-class aquatic center. By cultivating strong relationships with non-profit, corporate and community partners, King County Parks enhances park amenities while reducing costs.
About Artist Home
Artist Home is a company of culture makers, community builders, and event producers who have served the Pacific Northwest for more than 10 years. Since its inception, Artist Home has become a prominent part of the Northwest Music community by creating one-of-a-kind festival experiences and providing booking services, talent buying for regional venues and festivals, artist consultation, and promotional services.