Factoria Recycling & Transfer Station
Fees
See the disposal fees page for more detailed information.
Garbage
Minimum fee
$24.25 per entry (includes basic fee, surcharge and tax)
Per ton
$144.34 per ton (includes basic fee, surcharge and tax)
Note: The minimum fee covers the first 320 pounds. Passenger cars are charged a per entry fee of $24.25. All other vehicles, including station wagons, lift-backs, vans, mini-vans, pickup trucks, recreational vehicles, all-terrain vehicles and sports utility vehicles, are weighed in and out and charged for actual weight disposed, based on the per-ton fee.
Unsecured loads
$25 – strictly enforced
Since 1994, in accordance with state law RCW 70.93.097 external link and King County Code 10.12.040, the Solid Waste Division has assessed a fee to drivers of vehicles with unsecured loads arriving at its transfer facilities. An unsecured load is a load that has not been fastened in or attached to the vehicle with tarps, rope, straps, netting or chains, so as to prevent any part of the load or the covering from becoming loose, detached, or leaving the vehicle while the vehicle is moving. Gravity, speed, and weight are not load securing devices.
The fine for transporting an unsecured load on a public highway is $216. If an item falls out of or off your vehicle and causes bodily injury, you will be charged with a gross misdemeanor, which carries a penalty up to $5,000 and may include jail time. For safer roads and less litter, secure your load.
Payment methods accepted
Visa® MasterCard® (debit/credit)
Cash
Checks - payable to "KCSWD"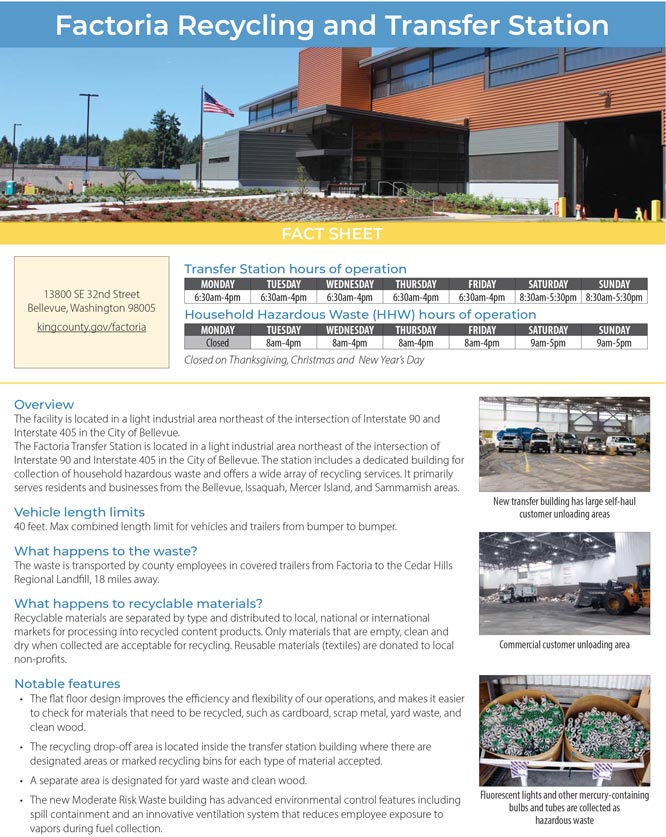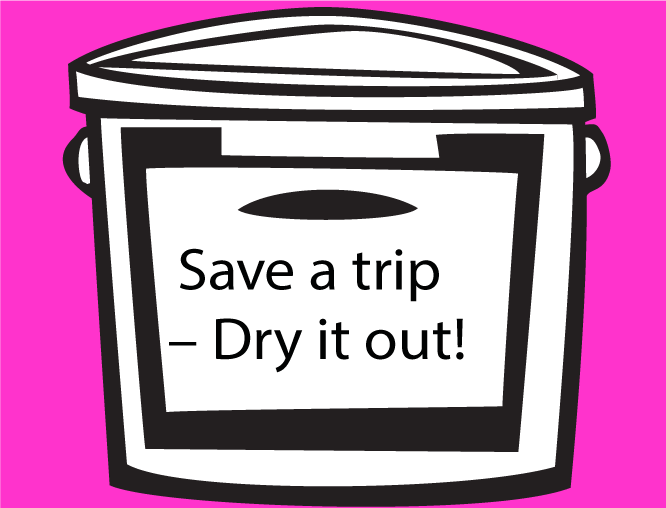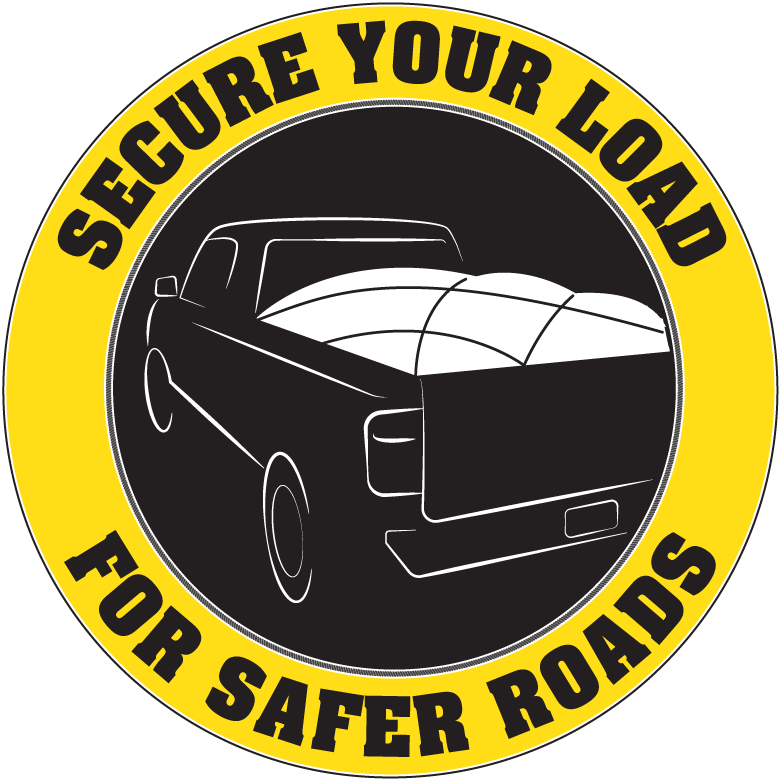 Disposal restrictions at king county solid waste facilities
King County's solid waste facilities are designed to accept a wide range of materials; however, there are legal, operational and safety reasons why some materials are restricted.
Not accepted for disposal
Items more than eight feet long – includes large objects such as boats, trailers, and campers. See "items that require prior written approval for disposal" below.
Explosives – includes fireworks and ammunition: contact your local police department or the King County Sheriff for disposal options; the Seattle Police Athletic Association shooting range

external link

in Tukwila accepts fireworks and ammunition; and some rifle and pistol ranges may also accept ammunition.
Burning or smoldering material
Computers, monitors and laptops (visit the Take it Back Network or the What Do I Do With…? website for free recycling options)
Dense items – items that are larger than 2 feet by 2 feet by 2 feet and weigh more than 200 lbs are not accepted because they can damage garbage handling equipment. Examples of unacceptable dense items include large stumps, large pieces of concrete, and wood stoves. Recycling and composting options exist for many dense items and some can be disposed with prior written approval. See "items that require prior written approval for disposal," below for more info. Note: couches, bookshelves, desks, and other items that are less dense and less than eight feet long are accepted for disposal.
Liquids
Motor vehicles and major vehicle parts
Paint – no liquid latex or oil-based paint (dried out or solidified latex paint is okay)
Propane tanks
Televisions
Not accepted for disposal, but accepted for recycling at some facilities. Fees apply for some items.
Visit the What Do I Do With…? website, call the King County Solid Waste Division or contact us online if you have questions about recycling or disposal options for these materials.
Not accepted for disposal at facilities that offer recycling services for these materials. Fees apply for yard waste and clean wood, but those fees are less than the garbage fee.
Accepted for disposal with restrictions
Visit the What Do I Do With…? website, call the King County Solid Waste Division or contact us online about disposal options for these materials
From residential self-haul customers only:
Containerized sharps – home generated only. Accepted at no charge in designated sharps bin at the Bow Lake and Shoreline stations.
Dirt (uncontaminated) – up to one pickup truck full. Must control dust.
Drums – limit one open, empty metal or plastic drum per load
Tires – passenger car tires only. Limit four per load from residential customers only.
Treated wood – such as railroad ties and pressure treated wood. Must be less than eight feet long.
From residential self-haul customers and commercial customers:
Construction and demolition debris – such as drywall, roofing, siding, etc. Not accepted from dump trucks, dump trailers, flat beds that dump, or roll-off boxes (dump trucks, flat beds and roll-offs accepted at the Vashon station only). Materials must meet size and length limits.
Hot tubs – accepted at the Bow Lake, Enumclaw and Vashon stations only. Must meet size and length limits.
Mattresses or box springs – combined total of six per customer/company per day.
Items that require prior written approval for disposal
The following items may be accepted, with conditions, at King County's Cedar Hills Regional Landfill when accompanied by a waste clearance. See the waste clearance page for more information. Disposal locations are limited and special fees may apply.
Items more than eight feet long
Asbestos-containing waste – contact Puget Sound Clean Air Agency

external link

for removal, packaging and transportation information
Contaminated soil
Dead animals (over 15 lbs)
Dense items: items that are bigger than 2 feet by 2 feet by 2 feet and weigh more than 200 lbs. Examples include safes, wood stoves, and large pieces of concrete.
Excessively dusty or odorous wastes
Home heating oil tanks or other underground storage tanks
Industrial waste products
Large quantities of food or beverages that must be destroyed
Lengths of cable, wire, stranded wire rope, etc.
Metal or plastic drums in quantities greater than one
Needles and other sharps from clinics, dentists, etc. and other biomedical waste
Accepted for disposal at all facilities
Latex paint that is dried out or solidified
Printers, fax machines and scanners
Polystyrene packing material ("peanuts") – must be bagged securely to prevent litter
Small appliances such as microwaves and toasters
Truck canopies – shell type only. No campers.
Used oil filters – must be drained for 24 hours or crushed
Length limit for vehicles and trailers
(Subject to operating conditions)
Total length from bumper to bumper may not exceed:
30 feet at Algona, Cedar Falls, Houghton, Renton and Vashon
40 feet at Bow Lake, Enumclaw, Factoria and Shoreline
Transfer station safety guidelines
For your safety, please follow these guidelines when visiting the transfer station:
Turn off your cell phone
Keep children and pets in vehicle
No smoking
Watch for moving vehicles
Use extreme caution
Follow directions from station staff
Water conservation measures in effect at all facilities
All non-essential water use is prohibited. Customers may not use water to hose out their vehicles or to rinse garbage cans – use brooms instead.
Transfer station construction projects
Visit the transfer station construction projects page to see if there are any current projects that may affect your visit.