How King County residents green their holidays:
A visit with Marilyn Lauderdale
Marilyn Lauderdale owns Styro Recycle (external), a polystyrene (Styrofoam) recycling business in Renton, located in the same building as Ikea.
Q: Do you have any green decorating tips?
A: I am using the same decorations that I have used since 1992! I try not to buy new decorations. We also put up a wreath outside, all natural. I get it out of my backyard. I have cedar trees in the backyard. You cut off a couple of branches and tie them together, and put a bow on it!
We also use candles, and those candles have lasted us for years. I have candles that are seriously old. They are beautiful candles. I'm not in the habit of having to buy new decorations every year. I prefer to store them away, so that they are nice and in good condition.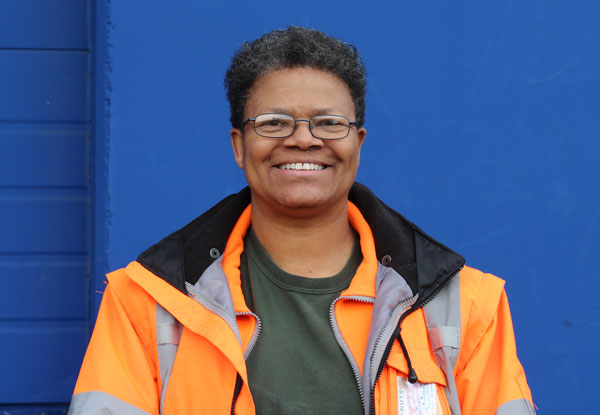 Q: What other tips do you have for making the holidays greener, and what do you do yourself at home?
A: Make sure you are buying products that are recyclable. Make sure you are communicating with the family. We try to have containers and tell everybody, "Put your plates over there, napkins over here (in the food scraps container)." We try not to use plastic bottles for water. We have a water container, so we are using glasses that we wash and keep. Ninety percent of the plates we are using are our glass plates or "plate plates," the kind you put into the dishwasher. We use real silverware instead of plastic. We use cloth napkins instead of paper napkins. It depends on how big the function is. If we know we can accommodate the people we have, then we definitely try to use more reusable materials and products, instead of just recyclable ones.
Q: Are these things easy to do?
A: Yes, it is very easy. If you make it easy for your guests, they can do it.
Q: What other things do you do to make your holidays more sustainable?
A: We used to recycle a gift - it was not a gag gift, but we recycled it so that every year someone was like, "Oh, it is my turn, okay, I am the one who gets it, ha ha." But it has been a while since we have done that.
When people do open up their gifts, we make sure to save all the reusable packaging. We start off by bagging the wrapping in one bag and plastic in another.
Q: What's another example of how your family makes the holidays work for you?
A: We have actually moved our Thanksgiving from Thursday to the next Saturday. People go to their in-laws on Thursday, and on Saturday we all get together and have a big dinner that you can enjoy and do not have to rush. It is not the day it falls on that is important, but the event itself. Saturdays have worked out really well for us, and it's more relaxing!
(Interview has been condensed and edited.)