Success story: Auburn School District
Number of schools in the district: 22
Participated in the King County Green Schools Program: 2006–2008
Waste reduction and recycling
From 2006 to 2008, sixteen of the district's 22 schools increased their recycling rates.
In these 16 schools, the King County Green Schools Program worked with school custodians and other school staff to set up improved recycling systems and conduct outreach to students and staff about waste reduction and recycling practices. The program also provided recycling containers for classrooms, lunchrooms and offices, and dollies to assist custodians with collection of recyclable materials, as well as stickers for each container listing what can and cannot be recycled.
Gildo Rey Elementary increased its recycling rate from 43 percent to 67 percent, resulting in cost savings of approximately $425 per month or $4,230 per year. These savings were achieved because the school improved its recycling program and was able to reduce garbage pick up from twice per week to once per week.
In the fall of 2008, Auburn Mountainview High School a school that started with a 35 percent recycling rate in the fall of 2006 and increased it to a 55 percent recycling rate by May 2008 is building upon its successes by recycling food scraps. Cedar Grove Composting, a local composting facility, is collecting the compostable materials. Although the district pays for this collection service, the net result is a cost savings of $580 per month. The savings were achieved by making adjustments in garbage collection service, which is more expensive than composting collection service.
The City of Auburn offered classroom presentations about recycling and waste reduction, served as a liaison between the district and the city's hauler, and provided regular garbage disposal and recycling data for each school.
The district reduced food waste through diligent management of school kitchens.
The district addressed illegal dumping issues at a number of schools by posting no dumping signs provided by the King County Solid Waste Division.
Energy conservation
The district worked to conserve energy use and costs. Here are a few examples.
Boiler tune ups were conducted at some schools.
Programmable thermostats were installed in portables.
The district maintained energy misers on all vending machines.
To decrease use of items that waste electricity, the district conducted inspections of all schools to evaluate the use of PUAs (personal use appliances). The Superintendent notified all administrators that classroom PUAs are discouraged.
The district purchased software called LAN Desk that shuts computers down automatically after inactivity.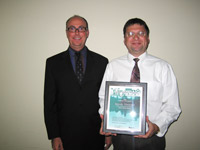 Water conservation
The district conserved water through the following efforts.
Faucet aerators and low flow faucets were installed.
The district replaced spray nozzles with low flow nozzles in all school kitchens.
Rain gauges are being installed on all irrigation systems
Other
The district Child Nutrition Department partnered with local farmers to supply fresh organic foods for district lunchrooms. It also created a school garden to teach students sustainable practices and to provide fresh organic vegetables for two schools in the district.
Through its Safe Walking Routes Committee, the district expanded safe walking and bicycling routes for children. Pioneer Elementary School kicked off a "Ride Your Bike to Cool the Planet" program. Washington Elementary School parents, students and staff celebrated International Walk to School by opting to walk instead of riding the bus or driving a personal vehicle.
The district Transportation Department enforces a no-idling policy during after-school loading times.
One of the district´s most important achievements was to create a Resource Conservation Manager position. School districts that have Resource Conservation Managers who regularly monitor energy and water use and garbage volumes have been able to make greater strides to reduce garbage volumes and energy and water use and to maintain those reductions over time.
Awards
In 2008, Michael Martin, a fourth grade teacher at Terminal Park Elementary School, received a King County Earth Heroes at School award. Mr. Martin formed a Green Team that reused paper in the classroom, promoted recycling and set up a worm bin to compost food scraps.
Comments
"Auburn School District was very pleased with the support received from the King County Green Schools Program. The benefits experienced were instrumental in moving the district toward a more comprehensive district-wide resource conservation program."- Randy Thomas, director of maintenance and operations
Contacts
For more information about this district's participation in the King County Green Schools Program, contact:
Jay Donnaway, Resource Conservation Manager
Telephone: 253-931-4955
E-mail: jdonnaway@auburn.wednet.edu