Success story: Northshore School District
Participated in the King County Green Schools Program: 2004–2006
Waste reduction and recycling
King County's Green Schools Program staff conducted site visits at 14 schools, documented findings, made recommendations and presented them to the district superintendent.
The district worked with Green Schools Program staff to develop a "Drain It, Drop It, Dump It" campaign to expand the recycling of plastic bottles and aluminum cans. The campaign was successfully implemented at Cottage Lake Elementary, Leota Junior High and Skyview Junior High, where 150-200 pounds of liquid waste were removed from the garbage each day. That equates to about 36,000 pounds per year.
The Secondary Academy for Success and Cottage Lake Elementary received recycling containers for plastic bottles and aluminum cans.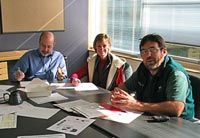 Hazardous materials reduction and management
The district assessed the viability of introducing a new micro-chemistry curriculum in its secondary schools.
King County's Green Schools Program staff distributed information to district staff regarding the proper management of maintenance and automotive chemicals and disposal of computer products.
Energy conservation
The district completed retro-commissioning at more than 50 percent of its school facilities.
Water conservation
The district specified drought-tolerant landscaping as the district standard.
The district also specified water conserving toilets, urinals and faucets as the district standard in new construction and remodels.
A low impact design storm water management system was installed and monitored at Cottage Lake Elementary School.
Comments
"Customer service from Green Schools Program staff was excellent. All elements of the program were focused, yet flexible. Many district staff members deeply appreciated working with the Green Schools Program." – Nancy Josephson, former Director of Planning and Design, Capital Projects, Northshore School District, 2006
For more information about this district's participation in the King County Green Schools Program, contact:
Nancy Josephson, Capital Projects Manager, Bainbridge Island School District
E-mail: njosephson@bainbridge.wednet.edu