Success story: Bellevue High School
School District: Bellevue
School Location: Bellevue
Began participating in the Green Schools Program: In 2003, during the pilot Green Schools Program, then again in September 2008
Level One of the Green Schools Program: Achieved in May 2009
Level Two of the Green Schools Program: Achieved in May 2010
Level Three of the Green Schools Program: Achieved in April 2011
Waste reduction and recycling
The school has a 45 percent recycling rate.
Bellevue High has an active student Earthbound Club with approximately 50 members.
The City of Bellevue partnered with the Green Schools Program to assist Bellevue schools with recycling improvements.
Containers for recycling are in all classrooms, offices and the cafeteria.
Earthbound organized a campus clean up and recycled any bottles/cans that were gathered.
Earthbound continued promotion of recycling and waste reduction to student body.
The school collects and mails bottle caps to Aveda for the company's bottle cap recycling program.
To reduce paper use, the school does the following:

Instituted a double-sided photocopying policy and placed education sheets on all printers to promote the policy.
Uses e-mail communication whenever possible.
All classrooms use smart boards and flash drives.
Energy conservation
The school completed Level Two by meeting all energy conservation criteria.
Bellevue High conducted a campaign to reduce energy use. Charts from the district that show energy use over time were shared with the school.
Environmental education
The Earthbound Club held a "sustain able" event in April 2009 and in April 2010 with 10 speakers and more than 20 booths from environmental agencies. Approximately 250 people attended the events, including Bellevue City Council members.
Club members went on field trips to "Idea House," Allied Waste, Alchemy Goods, a University of Washington sustainability event and Cougar Mountain Zoo in Issaquah.
Earthbound worked on Marra Farm, an organic farm in Seattle.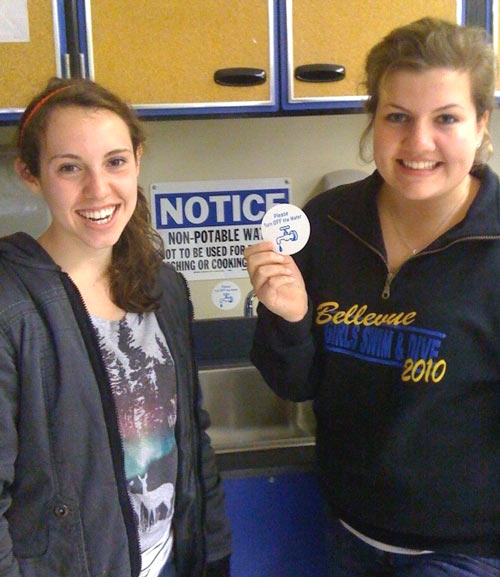 Water conservation
Earthbound conducted a water conservation outreach campaign.
Earthbound participated in a Friends of the Cedar River watershed restoration project.
Many members of Earthbound are also Salmon Watchers.
Nature Vision presented a workshop on water conservation.
City of Bellevue presented a workshop about salmon.
The green team used the water conservation resource tub from the City of Bellevue.
Students placed water conservation posters throughout the school.
Students learned about water conservation and drinking water in their science classes.
Earthbound toured a wastewater plant as a field trip.
Students placed "turn water off" stickers by sinks throughout the school.
Awards
Teacher Ted Cox received a King County Earth Hero at School award in April 2010.
For their leadership of the Earthbound Club, students Marielle Price and Rose Smith received a King County Earth Hero at School award in April 2007 and student Lynn Shishak received a King County Earth Hero at School award in April 2006.
For more information about the school's conservation achievements and participation in the Green Schools Program, contact:
Bellevue High School
425-456-7000