Success story: Olympic View Elementary School
School District: Federal Way
School Location: Federal Way
Began participating in the Green Schools Program: September 2011
Level One of the Green Schools Program: Achieved in May 2012
Level Two of the Green Schools Program: Achieved in May 2015
Waste reduction and recycling (level one)
In 2011, Olympic View Elementary School kicked off its participation in the Green Schools Program with the King County waste reduction and recycling assembly.
The school increased its recycling rate from 30 percent to 50 percent after launching a lunchroom collection program for recyclable and compostable materials.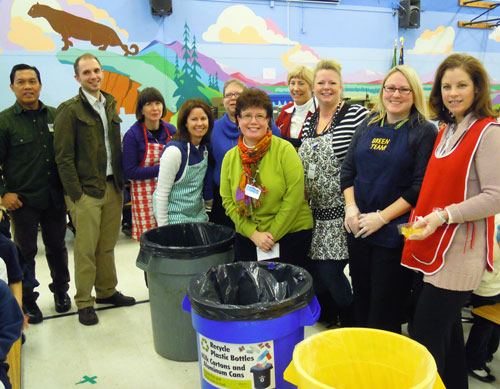 Led by teacher Pam Pierovich, classrooms and student leaders created posters about how to sort compostable materials, recyclable materials, and garbage.
The student council made several announcements and created a video about recycling and composting.
Head custodian Emeterio Marzan emptied garbage and recycling containers, and monitored and reported the results. Vice principal Kim Anderson educated students about lunchroom recycling and helped monitor the new program.
Students created paper reuse boxes for their classrooms. Paper used only on one side is placed in the reuse boxes so that students can use the other side.
Students in teacher Ann Marie Imbimbo's music classes created and performed a musical about recycling in March 2012.
Students in one classroom collected paper towels and food scraps and placed these compostable materials in the school's outdoor composting collection container.
In October 2014, the school scheduled the King County Earth Challenge assembly.
In an effort to learn about contamination in food scrap collection bins, student recycling and waste station monitors removed the small stickers from fruits and vegetables, placed them on cards provided by Cedar Grove Composting, and sent the filled in cards to Cedar Grove in exchange for free bags of compost.
The student Green Team provided PA announcements on waste reduction and recycling.
The school started a community garden in 2011-12, and the student Green Team took over its maintenance.
Energy conservation (level two)
Signs were placed above light switches to encourage students and staff to turn off lights in unoccupied spaces.
Green Team students shared energy conservation tips in PA announcements.
The Green Team met bi-monthly and at the beginning of each meeting took an energy conservation education pledge.
Teacher Mr. Weichert designed labels that the student Green Team distributed to teachers to remind students and staff to turn off computers in classrooms at the end of each day.
Every classroom assigned a student to serve as Energy Patrol monitor. The monitors made sure that lights were turned off when rooms were unoccupied.
Teachers were encouraged to open blinds and use outdoor light whenever possible.
The school limited use of supplemental heaters, refrigerators, coffee pots, and other appliances in classrooms and office spaces. Incandescent lights were replaced with fluorescent and LED lights with the Energy Star label.
Comments
"The kids are doing a really good job with the recycling and have taken ownership of their lunchroom. This saves on waste and makes their school and neighborhood cleaner. They are proud of themselves."
– Kim Anderson, vice principal
For more information about the school's conservation achievements and participation in the Green Schools Program, contact:
Pam Pierovich, teacher
ppierovi@fwps.org