Success story: Silver Lake Elementary School
School District: Federal Way
School Location: Federal Way
Began participating in the Green Schools Program: September 2012
Level One of the Green Schools Program: Achieved in May 2013
Waste reduction and recycling (level one)
The school increased its recycling rate from 20 percent to 44 percent.
Silver Lake began collecting recyclable and compostable materials in its lunchroom and staff lounge.
Thanks to improved recycling practices, Silver Lake decreased its garbage collection service from an 8-yard Dumpster to a 6-yard Dumpster. The school also added two 96 gallon food waste carts so that their compostable materials can be collected and transported to a composting facility.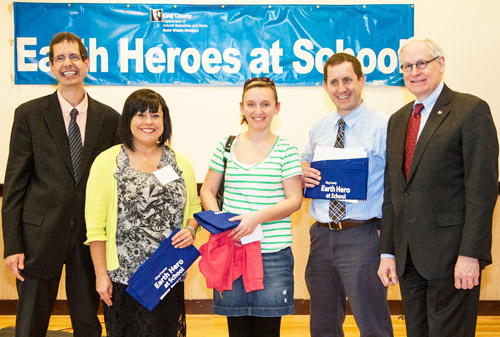 Students use personal white boards in the classroom to reduce paper use.
Administrative assistant Paul Reid leads an 11-member Green Schools' team comprised of teachers, custodian, librarian and lunchroom staff. The team oversees and contributes to the school's conservation efforts.
The school communicates its waste reduction and recycling actions and successes throughout the school year via parent newsletters, staff memos and PA announcements.
In fall 2012, the school started a student Green Team, whose members promote waste reduction and recycling practices by educating students and staff and by placing signs next to bins to assist with proper sorting.
Students wear King County Green Team aprons to identify themselves as recycling station monitors and to assist other students with proper sorting at breakfast and lunch recycling stations.
In 2012-13, Silver Lake participated in the King County elementary school assembly program and classroom workshops to train staff and students on the importance of waste reduction, recycling and habitat stewardship.
Awards
Silver Lake Elementary received a King County Earth Hero at School Award in April 2013 for its waste reduction and recycling program.
For more information about the school's conservation achievements and participation in the Green Schools Program, contact:
Paul Reid, administrative assistant
pried@fwps.org