Food recycling: collection and processing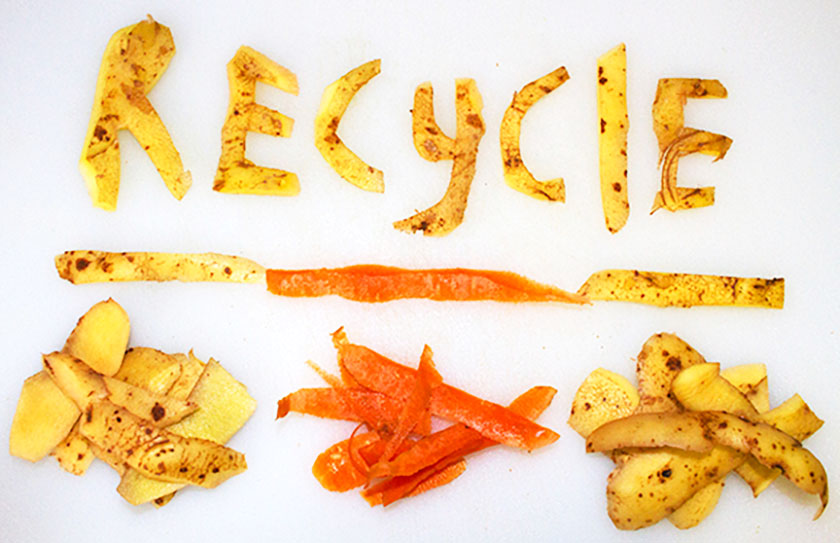 Why recycle food waste?
Food waste that is no longer edible still has value. Instead of taking up space in the landfill and contributing to climate change through methane emissions, food waste can actually provide nutrients to plants, or energy for manufacturing and processing. Organic waste can be recycled to create compost, fertilizer, or energy, all of which divert waste from the landfill. Join other businesses in King County that are reducing their negative environmental impact by composting or processing their organic materials.
There are several options available to businesses for recycling food waste. They can compost on-site or contract with a hauler to pick-up and process food residuals using either composting or other technologies. Materials appropriate for composting include: food scraps, food-soiled paper, waxed cardboard, plants, and wood scraps. The various processing systems listed below accept different kinds of organic materials.
Most on-site composting systems are "in-vessel," meaning they are usually fully contained and vermin resistant. Their processing capacities range from a couple of pounds to thousands of pounds per day, and the cost for these systems covers a similarly large range. An expected pay-back period on a new in-vessel composting system is likely around seven years, making it a good long-term financial investment with excellent short-term public relations benefits. There is the added benefit of becoming an on-site source of compost to nourish landscape plants. Schools also find that in-vessel composting systems are excellent teaching tools.
Resources for recycling food waste
Listed below are some companies that collect and process organic waste – often for less than the cost of garbage collection. Collection area varies by hauler. Contact the businesses for more information. (All links external).
Collection only
Collection and processing
Processing only (for onsite management)
Green Mountain Technologies

external link


Service provided: Green Mountain Technologies provides on-site in-vessel composting systems for businesses or organizations that want to compost their own food waste. Their fully enclosed composting vessel features power mixing, and compost aeration. Capacity ranges from 20lbs to 6,000-plus pounds per day.
Applicable to: From educational and institutional customers composting their own food waste to large municipalities and waste haulers processing thousands of tons of material per year. The self-contained units are ideal for urban and suburban composting at schools, universities, restaurants, businesses, community gardens, farms, parks, camps, hospitals and supermarkets. Visit the Green Mountain Technologies website for more information.
Contact information: sales@compostingtechnology.com, 206-319-7102, 802-368-7291
Hestia Biogas, Inc.

external link


Service provided: Hestia specializes in anaerobic digestion for home-scale waste-to-energy systems, with larger commercial units for on-site waste management in urban environments. On-site processing of organic waste saves customers waste disposal fees on the wettest, heaviest wastes, produces energy for use in multiple applications, while recycling valuable nutrients for gardening and landscaping.
Applicable to: Grocers, corporate and university cafeterias, hospitals, resorts, breweries, theme parks and other business, government and educational institutions generating up to one ton of food waste per day.
Contact information: Matthew Nelson, m.nelson@hestiahomebiogas.com, 458-210-6635
Impact Bioenergy

external link


Service provided: Impact Bioenergy is a technology company that makes a truly on-site food/beverage "waste" conversion system that requires no holding tank, dumpster, collection truck, or centralized processing plant. It goes beyond zero waste by generating clean renewable bioenergy (heat, cooking, light, power and vehicle fuel) and liquid organic biofertilizer. In addition, Impact Bioenergy offers a Community Supported Biocycling (CSB) matching service and carbon-negative co-op (removes more emissions that it produces). CSB is a hyperlocal biomass recycling platform for food "waste" generators, gardeners and farmers located in communities with microdigesters (currently Seattle-Ballard and Auburn).
Applicable to: Restaurants, food banks/grocery stores, commercial kitchens, campuses, food processors, craft beverages producers, farms and others generating 100 lbs. or more food/beverage "waste" per week.
Contact information: info@impactbioenrgy.com, 781-696-3625
NOTE: King County maintains this resource list as a courtesy to the public and does not endorse or guarantee the quality of the service offered or provided. If your business or organization offers waste prevention, reduction, rescue or recycling services and would like to be listed on this website, please contact Karen May.