Briscoe Desimone Levee Improvement Project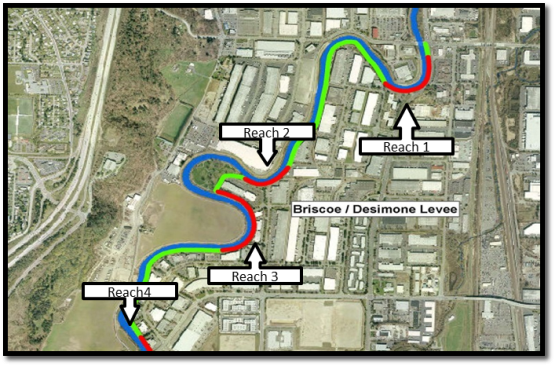 This flood-risk reduction project to improve public safety and protect the Kent Valley is managed by the City of Kent with $18 million in funding from the King County Flood Control District, backed by a $7 million Washington State Department of Ecology Grant. Construction is anticipated to begin in May 2014. Additional project information is available on the City of Kent's webpage.
Project area
The Briscoe Levee is located along the right bank of the Green River between 200th Street and South 189th Street in the City of Kent. The Desimone Levee is located on the right back of the Green River between South 189th Street and South 180th Street in the City of Tukwila. Together these levee segments are approximately 2.7 miles in length and protect properties within the cities of Kent, Tukwila and Renton.
Overview
Manufacturing and industrial buildings are located adjacent to the entire stretch of the levees. Four sections (reaches) of the levees, approximately 4,450 feet, do not meet slope and stability requirements and need repair to meet the accreditation requirements of the Federal Emergency Management Agency. Structural sheet pile walls will be installed at the back of the existing levee slope to act as a secondary levee to reduce flood risk to the cities of Kent, Tukwila and Renton and protect the large number of warehouses, manufacturing facilities and some retail establishments behind these levees.

For more information, contact Monica Walker, Project/Program Manager, King County River and Floodplain Management Section.