Cedar River Gravel Removal Project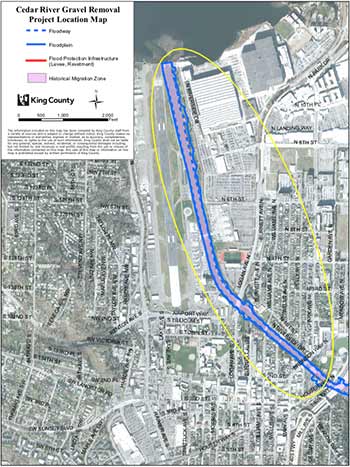 Project area
The project site is located within the lower Cedar River channel in downtown Renton. The project extends approximately 1.25-miles from the river mouth at Lake Washington upstream to the Williams Street Bridge. Mitigation work will also take place at the upper end of the Elliott Spawning Channel at river mile 4.9 adjacent to Ron Regis Park.
Schedule
The project started in 2011. Final design and permitting are underway. The project is planned to be constructed between June 15 and August 31, 2016.
Project goal
Perform maintenance dredging in the lower Cedar River from the mouth of the Cedar River to the Williams Street Bridge in order to reduce flood risks to private, public, and commercial properties.
Overview
Significant amounts of gravel accumulate every year in the lower 1.25 miles of the Cedar River.
Historically, periodic dredging maintained flood conveyance and averted flood damage to area development, especially the Boeing 737 production facility and Renton Municipal Airport.
Maintenance dredging was most recently conducted by the US Army Corps of Engineers through an agreement with the City of Renton.
Gravel depositions within the project reach are approaching threshold levels that necessitate removal in order to maintain flood protection.
The project includes removing river sediments of approximately four feet settled in the channel, repairing unstable banks developed since the last dredging, exporting sediments offsite, replanting native species, and removing invasive vegetation in areas adjacent to the levee and floodwall.
The project also includes mitigation elements, including modifications to the Elliott spawning channel.
The project is funded by the King County Flood Control District's Capital Improvement Project budget and the City of Renton's portion of the Flood Control District's Sub-Regional Opportunity Fund.
Project design and implementation are being managed by City of Renton staff with technical support from a consultant team.
Additional resources (external links)
For more information, please contact Chris Brummer, Cedar River Basin Supervisor, King County River and Floodplain Management Section.