Elliott Bridge Reach Mitigation Project
Project summary
This project is one of a number of projects that will provide wetland and aquatic habitat mitigation for the Washington State Department of Transportation's (WSDOT) State Route 520, Interstate 5 to Medina Bridge Replacement and HOV Project (external link).
The Elliott Bridge Reach is located along the Cedar River, between State Route 169 and Southeast Jones Place, and near 154th Place Southeast. Through time, King County acquired 19 parcels in this reach totaling about 16 acres. All acquisitions were voluntary and occurred at fair market value.
The exact location of the project will be based on an analysis of current conditions to ensure the project is consistent with habitat and flood risk reduction goals for the reach.
While specific elements are subject to change during the design process, the project will have three main components:
Wetland restoration actions:

Remove historic fill and modify existing levees to restore approximately four acres to the active floodplain, while maintaining flood protection for downstream roads and residential properties.
Excavate, grade, and contour the project to establish a surface elevation consistent with wetland hydrology.
Replant native wetland and upland plant species, and control invasive plants.

Aquatic restoration actions:

Construct a side channel along this reach of the Cedar River to provide refuge for migrating fish during high flows.

Main stem pool formation actions:

Create and sustain pool habitat while protecting recreational safety and passage through the reach.
Problem addressed
The Elliott Bridge Reach Mitigation Project will restore approximately four acres of an active floodplain, adding flood storage capacity and improving salmon habitat.
The project will reduce downstream flood risks and improve wetland and aquatic habitat in a reach of the river which currently lacks habitat diversity, a known limiting factor for Chinook salmon productivity, as identified in the Lake Washington/Cedar/Sammamish Watershed (WRIA 8) Chinook Salmon Conservation Plan (external link).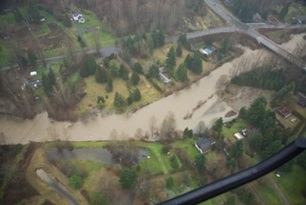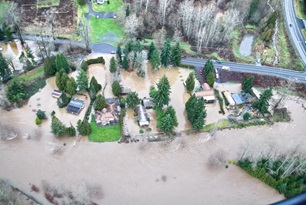 Project objectives
Maintain the current level of flood hazard protection to adjacent properties;
Create a project that will be compatible with future reach-wide flood hazard reduction and habitat goals;
Help the river expand into its historic floodplain for flood storage, energy dissipation, side channel formation and migration, and sediment storage or recruitment;
Address potential recreational safety concerns related to the installation of off channel and mainstem habitat structures.
Improve riparian plant diversity and control invasive species;
Reduce spawning habitat scour in the Cedar River mainstem; and
Satisfy King County Mitigation Reserve Program obligations for WSDOT's SR-520, I-5 to Medina Bridge Replacement and HOV Project (external link).
Anticipated project time line
2012 – Established mitigation agreement between King County and WSDOT.
2014 – Design phase, including public comment periods.
2015 – Complete final project design; procure construction contract; and begin construction.
2016 – Complete construction;
2017 – Adaptive management, final planting and close out the project.
2017-2026 – Project monitoring and maintenance.
Project partners, sponsors and roles
WSDOT will fund the Elliott Bridge Reach Mitigation Project as mitigation for the SR-520, I-5 to Medina project utilizing King County's Mitigation Reserve Program to fund the final design, construction, monitoring and maintenance.
Property acquisition was undertaken by the King County Flood Control District and King County's Water and Land Resources Division to remove repetitive loss homes from the floodplain and improve habitat for salmon. King County is planning a larger levee setback/removal project to restore the floodplain in the river reach once all properties behind the existing revetments have been acquired.
Additional funding for property acquisition was provided through the following agencies/grants:
Federal Emergency Management Agency
Conservation Futures Tax
Salmon Recovery Funding Board/Puget Sound Acquisition and Restoration
King Conservation District
Additional information and resources
King County Mitigation Reserves Program
King County Flood Control District (external link)
WSDOT State Route 520, Interstate 5 to Medina Bridge Replacement and HOV Project (external link)
For more information about this project, please contact Jon Hansen, Project Manager, Ecological Restoration and Engineering Services Unit, Water and Land Resources Division.