Reddington Levee Setback Project
About the project
The Reddington Levee Setback Project is part of a larger overall flood management strategy for the lower Green River. The project is located in the City of Auburn along the left (west) bank of the Green River. The project area is 1.3 miles in length and extends from 26th Street Northeast/Brannan Park (River Mile 29.5) north to the southern boundary of the Port of Seattle's wetland mitigation project at 43rd Street Northeast (River Mile 28.2).
In 2013, King County removed the existing levee and replaced it with a 4,800 foot long levee set back from the river. The 2013 levee work covered only the southern (upstream) 0.9 miles of that project length, ending just north of the River Mobile Estates. The work consisted of removing existing rock armor and levee fill materials, demolishing existing structures, utility construction and relocation, constructing a setback levee and access road, rock barbs, and engineered log jams, creating fish rearing and refuge habitat, and restoring the site with native trees and shrubs. In 2014, the levee was extended north of the River Mobile Estates to 43rd Street Northeast.
Problem addressed
The project replaced a sub-standard levee with a new levee that protects nearly 600 properties valued at $680 million. The project results are a wider corridor for moving flood flows and a wider riparian corridor with enhanced ecological benefits. It will greatly reduce flood risks to residents, businesses and infrastructure within the City of Auburn and the Green River Valley. The new setback levee allows the river channel to migrate laterally and form new channel patterns in this area.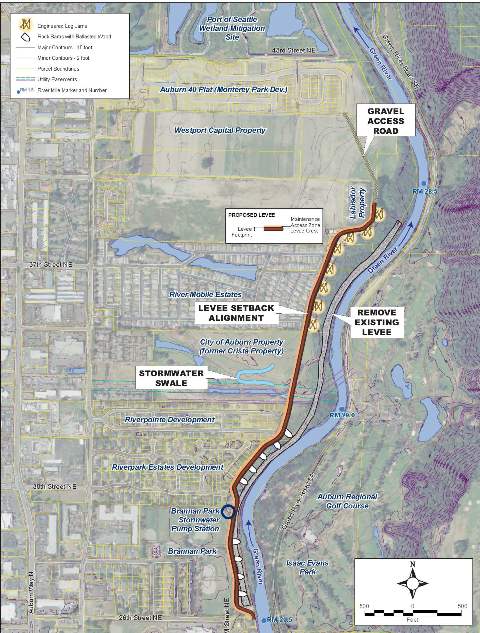 Project goals
The Green River basin is located in Water Resource Inventory Area (WRIA) 9 (external link). The WRIA 9 Salmon Habitat Plan identifies actions for the recovery of endangered salmon in the Green River, including specific project recommendations. The plan calls for side channel rehabilitation within the Reddington Levee Setback Project plan area, adjacent to the River Mobile Estates. The Reddington project not only accomplishes the side channel reconnection goal, it also removes channel armoring, incorporates engineered log structures and riparian revegetation, provides additional rearing and refuge habitat in excavated alcoves.
The Reddington Levee Setback Project goals are to:
Reduce flood risks to residents of Auburn and the Green River Valley by:

Replacing levees that do not meet modern structural design standards and have a history of seepage problems;
Setting back levees to reduce their susceptibility to scour; and
Increasing the flow containment capacity of the levee system to protect against higher new Green River flood flow estimates published by the U.S. Army Corps of Engineers.

Improve natural river functions to enhance habitat by:

Setting back levees to allow for more channel movement within the project area;
Allowing the river to meander, scour and develop a more complex ecosystem, which includes formation of rearing habitat for juvenile salmon;
Providing floodplain refuge for fish to avoid high flow velocities; and
Protecting existing vegetation and restoring a corridor of native vegetation to increase shoreline and channel shading, support the riparian food web, and improve fish and wildlife habitat adjacent to and within the river channel
Schedule
The Reddington Levee Setback Project was constructed in 2013 and rebuilt approximately 4,800 feet of levee. In 2014, the levee was extended north to 43rd Street Northeast.
| | |
| --- | --- |
| Benchmark | Date |
| Design and land acquisition | 2010 - 2012 |
| Levee setback construction | 2013 |
| Levee extension construction | 2014 |
Past public involvement
The State Environmental Policy Act (SEPA) public comment period closed on Sept. 6, 2012. The project team reviewed comments and worked with project stakeholders to address concerns. A Decision to Proceed was signed on December 10, 2012, and the Notice of Action was filed on December 14, 2012. The Determination of Non-Significance, SEPA Environmental Checklist, and supporting documentation are linked below.
A public meeting was held on Tuesday, Nov. 13, 2012 at Cascade Middle School in Auburn. King County staff presented information about how this project will reduce flood risk to the area and what the community can expect during project construction, scheduled to begin in June 2013.
Project documents
The Reddington Levee Setback Project documents are available in Adobe Acrobat format.
Project partners
City of Auburn (external link)
For more information about The Reddington Levee Setback and Extension Project, please contact Erik Peters, Green River basin Senior Engineer, King County River and Floodplain Management Section.