Sammamish River Bank Repairs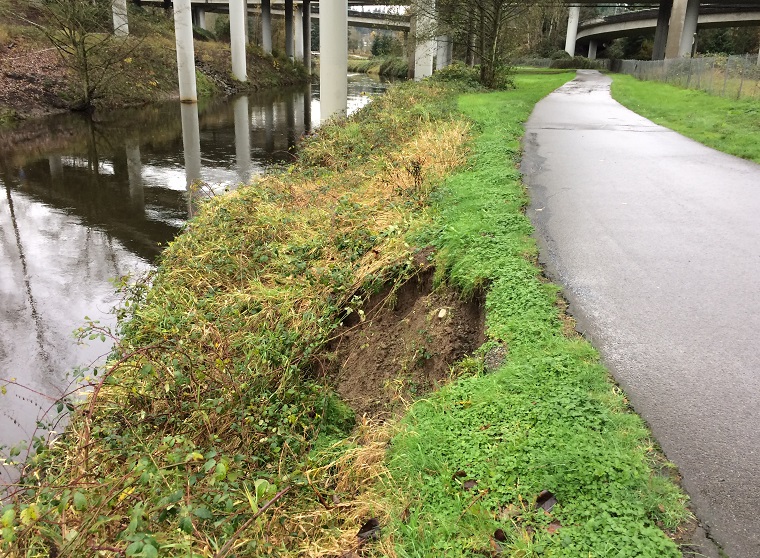 The bank repair project will help to protect the popular Sammamish River Trail.

Sign up for announcements about this project
Overview
Two locations along the right bank of the Sammamish River in Bothell, upstream of the Interstate 405 overpass crossing, are over-steepened and are threatening the integrity of the adjacent Sammamish River Trail. The Sammamish River levee is a U.S. Army Corps of Engineers facility, and as such, the King County's River and Floodplain Management Section is responsible for its maintenance. The Rivers Section also supports King County Parks in protecting its regional trail system.
The project's objective is to stabilize the bank where failures are occurring by reshaping the bank and planting native woody vegetation. The project will also entail the installation of large woody material along the eastern-most site for bank and toe protection and realignment of the existing Sammamish River Trail at both sites. The Washington State Department of Transportation maintenance facility underneath I-405 is adjacent to the project area and will be used to provide access to the site for all construction equipment.
The project will limit the potential for further bank failure and possible failure of the trail, providing a greater level of safety for people who use this popular trail for walking, running and cycling.
Project area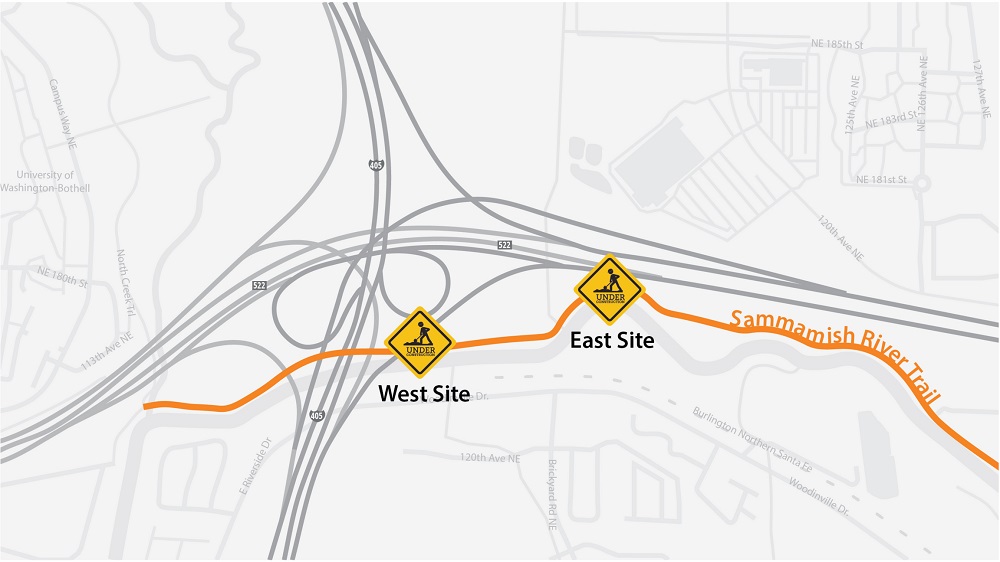 The project is located in Bothell along the right bank of the Sammamish River between river miles 4.7 and 4.9, just east of the I-405 overpass and State Route 522 interchange.
Project goals
Restabilization of two sections of the right bank of the Sammamish River

Habitat enhancement, required as a mitigation for the permit

The development of a streamlined design alternative that can work within existing programmatic permits, serve as a model for future small bank repair projects along the Sammamish River, prevent any hydraulic impact on the conveyance capacity of the channel, and develop a design consistent with Sammamish River Corridor Plan and WRIA 8 Salmon Recovery Plan.
Project timeline
| | |
| --- | --- |
| Benchmark | Date |
| Project design completed | November 2017 |
| Bid advertisement | January 2018 |
| Notice to proceed | May 2018 |
| Begin construction | July 2018 |
| Project completion | December 2018 |
| | |
Project sponsor and roles
This project is sponsored by the King County Flood Control District and is being done in cooperation with King County Parks, manager of the Sammamish River Trail, as part of the King County Regional Trail System.
Project documents
Project documents are available in Adobe Acrobat format. For help using Acrobat files, please visit our Acrobat help page.
For more information about the Sammamish River Bank Repairs Project, please contact Dan Heckendorf, engineer, King County River and Floodplain Management Section, Water and Land Resources Division, Department of Natural Resources and Parks.