Sinnema Quaale Upper Revetment Analysis and Repair Project
Sinnema Quaale construction project completed
The Snoqualmie Valley Trail in the Stillwater area between Duvall and Carnation reopened in September 2016, when final construction wrapped up at the Sinnema Quaale flood-protection project site.

Crews repaired approximately 625 feet of eroded and unstable bank along the Snoqualmie River, which had damaged the popular, regional trail, as well as State Route 203 and nearby fiber-optic cables.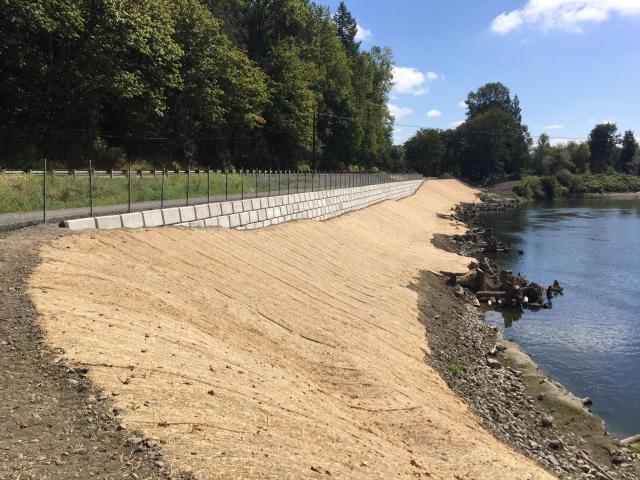 The Snoqualmie River flood protection project at the Sinnema Quaale site, August 11, 2016.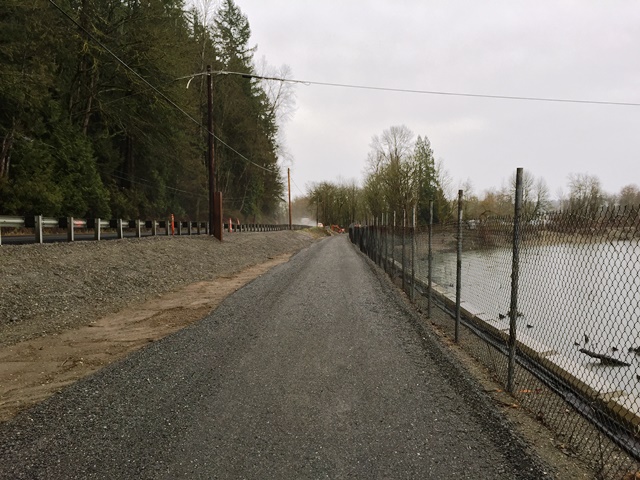 The Snoqualmie Valley Trail at the Sinnema Quaale site, March 1, 2016
Snoqualmie River bank repair at the Sinnema Quaale site, March 1, 2016
Overview
The Sinnema Quaale Upper Revetment is located on the right bank of the Snoqualmie River in the Stillwater area between Duvall and Carnation from river mile (RM) 17.4 to RM 17.9. This project reconstructed approximately 750 feet of bank revetment to protect the Snoqualmie Valley Trail and State Highway 203 from ongoing bank erosion and slope instability.
The revetment sustained significant damages in the November 2006 storm and was further damaged by subsequent high river flows. Bank erosion and related slope instability repeatedly harmed the Snoqualmie Valley Trail, requiring maintenance two or three times a year. Continued slope instability could have potentially affected State Highway 203, located adjacent to the trail. The project reconstructed the revetment alignment from about RM 17.75 to RM 17.9, removing car bodies remaining from the historical revetment in the process.
The Instream project design checklist (PDF, 560 KB) and additional information can be found on the King County large wood installation projects web page.
Project goals
Reduce risks to Snoqualmie Valley Trail and State Highway 203 from channel migration hazards.
Avoid or minimize environmental impacts of channel migration hazard management by implementing a capital improvement project that will reduce the likelihood of emergency repairs needed due to flood flow events.
Reduce long-term costs of flood hazard management by designing and implementing a structurally stable bank revetment that will reduce the likelihood of repeated repairs to the revetment or trail and of emergency actions and the resulting mitigation requirements.
Project partners
This project was sponsored by the King County Flood Control District and was done in cooperation with King County Parks, manager of the Snoqualmie Valley Trail as part of the King County Regional Trail System.
Project photos
Snoqualmie River bank repairs at Sinnema Quaale site, February 25, 2016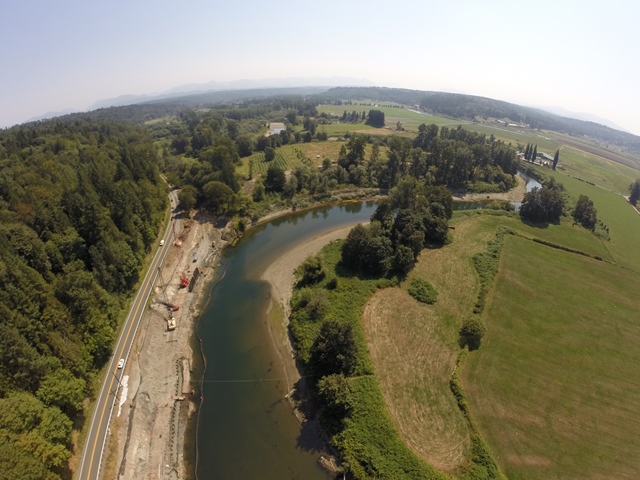 Project overview, 2015
Snoqualmie River bank at Sinnema Quaale repair work
For more information about the Sinnema Quaale project, contact Chase Barton, Senior Engineer, River and Floodplain Management Section, Water and Land Resources Division, King County Department of Natural Resources and Parks.