SR 169 Flood Risk Reduction Project
Weekend closure of SR 169 during construction to take place in October
Si necesita ayuda para entender dicha información, favor de llamar al 206-477-4812 y se conseguirá un intérprete por teléfono para que nos asista.
Project overview
King County, as the primary service provider to the King County Flood Control District, will replace culverts beneath State Route (SR) 169 and King County's Cedar River Trail, which are undersized and restrict runoff during high-rainfall events. Flooding from the runoff causes hazardous road conditions, isolates nearby residences, and has caused repeated closure of the highway.
King County will replace the existing 18-inch culverts with 15-foot wide box culverts to minimize the risk of flooding of the highway and nearby residences. The new culverts will also improve fish passage by allowing unobstructed access to upstream habitat.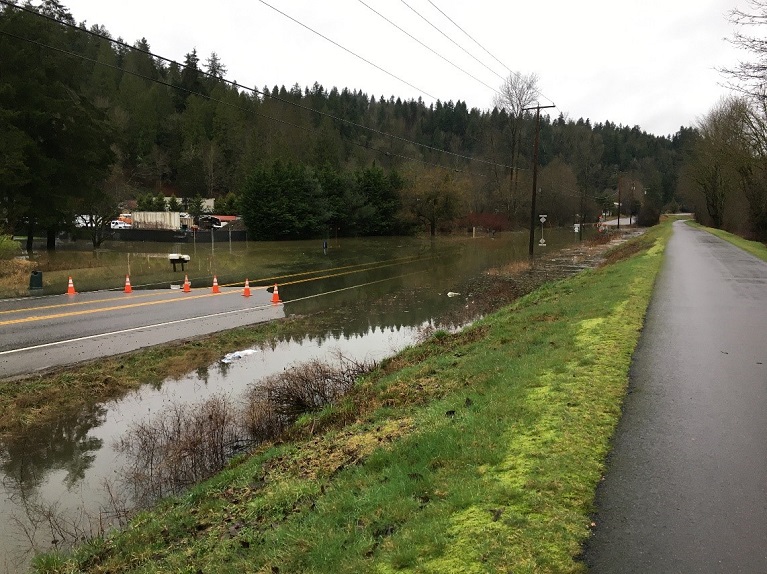 Construction impacts
SR 169 is a major traffic corridor between Renton and Maple Valley. King County is partnering with Washington Department of Transportation (WSDOT) on the closure of SR 169 during construction. To reduce impacts to commuters, the closure will take place over a single weekend beginning Friday at 9 p.m. and reopen on Monday at 5 a.m. The adjacent Cedar River Trail will also be closed while crews work over the weekend.
If you are interested in project updates, please return to this webpage. You can also find updated traffic information on the @WSDOT_traffic Twitter feed. Residents in unincorporated King County can get real-time traffic information by checking the My Commute Map and by following the @kcroads on Twitter.
Local and freight traffic will follow a signed detour route and delays should be expected. Residents and businesses near the project area have been notified about construction.
Impacts to residences and businesses during construction
Local access to residences, businesses, deliveries, and emergency services will be maintained during the weekend closure. Traffic from SR 169 will be detoured around the project area via arterial roads.
Project detour map
Community members in the immediate project area may experience minor delays entering or leaving due to construction. Flaggers will be present to direct traffic as needed.
Construction will take place throughout the entire weekend. People living near the project area can expect construction related noise, dust, and traffic during this timeframe.
Project Schedule
| Activity | Date |
| --- | --- |
| Feasibility Study | 2018-2019 |
| Design and Permitting | 2020-2021 |
| Construction | Mid-August to October 2021 |
For more information about the SR 169 Flood Risk Reduction Project, please contact Tracy Winjum, King County River and Floodplain Management Section, Water and Land Resources Division, Department of Natural Resources and Parks.
Related information
Related agencies