Teufel Large Wood Mitigation Project
Project Area
The Teufel Nursery property is located on the left bank of the lower Green River, between River Mile (RM) 20 and 20.8. It has no levees. This site has been previously identified as a proposed project location in both the King County Flood Hazard Management Plan and the Green/Duwamish and Central Puget Sound Watershed (WRIA 9) Salmon Habitat Plan. The project area is referred to as the Rosso Nursery in both plans. The King County Flood control District purchased the Teufel site in 2011, determining that it provides ample room (over 36 acres) for current mitigation needs as well as for future flood risk reduction and salmon habitat restoration work.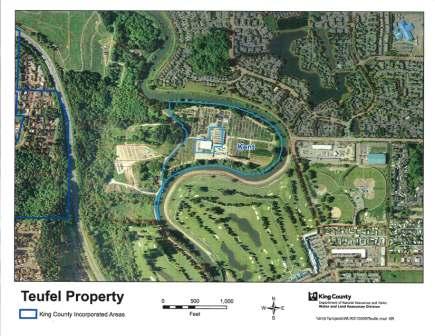 The following two complementary but separate projects are planned on the Teufel Nursery property:
Mitigation planting and wood placement within the 200-foot shoreline zone to provide riparian vegetation, shade, and instream habitat (anticipated construction August 2018); and
Flood risk reduction and salmon habitat restoration over the entire remaining area. Preliminary project concepts include fill removal, creation of rearing and refuge habitat for juvenile salmon, and riparian revegetation (anticipated construction 2020-2022).
Project goals
Combined project goals are to:
Maintain or improve flood protection in the surrounding community;
Create shallow, slow water habitat for juvenile salmon during the key January to June rearing and outmigration period for Chinook salmon, and restore a riparian forest to shade the river to reduce water temperatures and provide wildlife habitat, terrestrial food sources, and other riparian functions;
Plant trees and place large wood within the 200-foot shoreline zone to mitigate for trees removed from levees in the lower Green River (mitigation project only).
Acquisition funding
The Teufel Nursery Property was purchased in 2011 with funding from:
Project background
King County, on behalf of the King County Flood Control District, removed 461 trees from levees in the Lower Green River Valley in 2008 and 2009. This work was completed to bring the levees into compliance with vegetation management standards set forth by the Army Corps of Engineers Levee Rehabilitation and Inspection Program (PL84-99 Program -authorized by Public Law 84-99 ). Permits were obtained to do this work, and one of the permit conditions was to mitigate for the tree removal by planting four trees for every one tree removed and installing one piece of large wood for every tree that was removed from the riverward face of a levee – resulting in a total of 1,844 trees and 146 pieces of wood for mitigation.
Choosing a mitigation site:
Small mitigation sites were identified, but a need remained for a large site to plant the remaining 1,046 trees and place 85 pieces of large wood. The Teufel site was chosen because most levees in the Lower Green River are enrolled in the PL84-99 program, and since much of the river is leveed there are very few available sites where a large wood project and mitigation plantings would not conflict with Corps standards. The inside meander bend at the Teufel property was chosen for the instream wood structure because slow water velocities make it the safest location to place in-water wood from a river recreation perspective, and because the structure can be built without disturbing existing mature trees on the site, which provide much-needed shade along the river. The riparian planting will maximize shade to the river along the northern and eastern boundaries of the project site, which are identified as having critical and high shade need.
Project funding
The King County Flood Control District is funding the mitigation project.
In-stream wood structure project design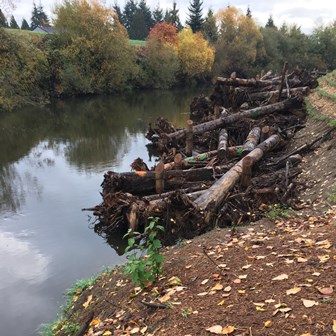 The Teufel Large Wood Mitigation Project along the Green River

The in-stream wood structure component of the mitigation consists of 85 pieces of wood that are at least 25 feet long, with attached rootwads. The structure is located along approximately 280 feet of an inside bend at the Teufel property, varies in height between three and five log layers, and is secured with piles and chains. The log structure provides habitat over the range of flows between 2,800 cfs (cubic feet per second) and 400 cfs, to provide important slow water habitat for juvenile salmon during the key January- June rearing and outmigration period for Chinook salmon. River recreational safety has been optimized by placing deflector logs at the upstream end of the wood structure, and by designing the structure so that less than one foot will be in the water during low summer flows (July-September) when the river is likely to receive recreational use.
Project design documents
Timeline - updated June 2018
2011 Property Acquisition
2012 Leaseback to nursery operation
2013-2015 Building demolition, contaminant investigation, and site assessment
2016-2017 Large Wood mitigation project design
Summer 2018 Large Wood mitigation project construction
Fall 2018 Mitigation tree planting
Project contact information
For additional information on the Teufel Large Wood Mitigation Project, please contact Jennifer Rice, Green River Coordinator and Teufel Project Manager, or Fatin Kara, Green River Supervising Engineer.