Upper Snoqualmie Valley Residential Flood Mitigation
The Upper Snoqualmie Valley Residential Flood Mitigation Project provides funding to mitigate flood impacts in the upper Snoqualmie Valley, the most flood prone community in the state of Washington. The King County Water and Land Resource Division is partnering with the cities of Snoqualmie and North Bend to take a comprehensive approach to identifying and prioritizing the flood mitigation needs in the upper valley.
The upper Snoqualmie Valley is exposed to inundation and channel migration during flood events. In Snoqualmie and the Kimball Creek area flooding is characterized by slow moving and deep water. Therefore, home elevations are generally the most cost effective type of mitigation. Whereas, flooding upstream of the confluence of the Middle, North and South Forks of the Snoqualmie River is characterized by channel migration, erosion and inundation, which would not be alleviated by elevating structures. Therefore, in that area acquisition is a more appropriate mitigation strategy.
The initial assessment of the upper Snoqualmie Valley identified 315 homes which have living space below the base flood elevation and 12 homes at risk from channel migration. The cost to mitigate these risks is approximately $32 million.
Project goals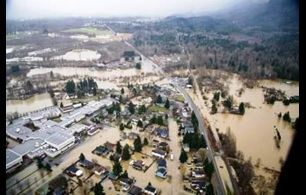 The goal of this project is to collaborate with the cities of Snoqualmie and North Bend to mitigate flood risks for all identified properties at risk. King County will continue to leverage Federal Emergency Management Agency grant funding, provide matching funds to mitigate flood risks beginning with those who are in the most at-risk locations.
Early actions include acquisition of five properties at high risk from channel migration, managing grant funded elevations in Kimball Creek, providing project management support and matching funds to the city of Snoqualmie home elevation projects, establishing a new small project mitigation grant fund and evaluating channel migration at Circle River, an area in the vicinity of 416th Ave SE in North Bend.
Project partners
City of Snoqualmie (External link)
City of North Bend (External link)
For more information about the Upper Snoqualmie Valley and River Residential Flood Mitigation Project, please contact Chrys Bertolotto, Program Manager, King County River and Floodplain Management Section.