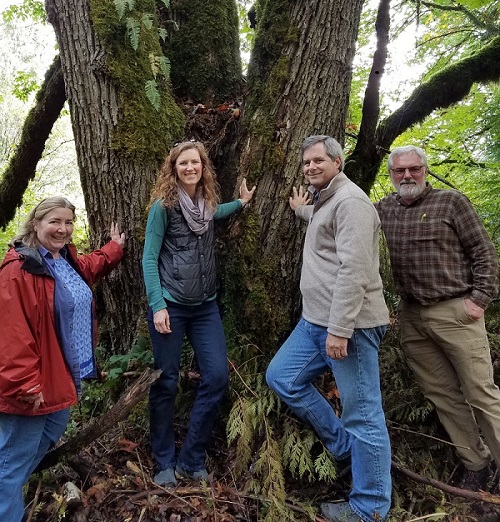 Wendy Sammarco, Forester
Wendy has been working as a forester in western Washington for 30 years and is still thrilled by discoveries made in the forest. Since 2017, she's been a Forester with King County, where her focus is on assisting landowners with forest stewardship. When not working, Wendy enjoys hiking, gardening, and reading.
Kathleen Farley Wolf, Forester
Kathleen has been working on forest management and conservation for the past 20 years. She joined the King County Forestry Program in 2018, where she works on developing strategies for long-term forest conservation in King County, including creating incentives for forest management that enhance carbon sequestration and support rural landowners. She also serves as the liaison to the King County Rural Forest Commission. When not working, Kathleen enjoys running, cycling, skiing, hiking and spending time with her family.
Richard Martin, Environmental Programs Manager
For nearly four decades, Richard has held a number of positions with local, state and federal resource agencies as well as The Nature Conservancy and has contributed to conservation efforts focused on forests, farmland and marine freshwater systems. He has been managing the King County Agriculture, Forestry and Incentives Unit since 2015. When not working, he enjoys birding, hiking, kayaking, cooking and traveling.
Bill Loeber, Forester
Bill has been providing forestry assistance to a variety of landowners for more than 35 years. He has worked as a forester with King County since 1997. He currently splits his time between assisting private forest landowners in growing and stewarding forests and providing active, sustainable stewardship of more than 28,000 acres of King County-owned forest land. On these lands, Bill promotes forest stewardship practices which aim to balance social, ecological, and economic resources of these forested properties. When not working, Bill enjoys hiking, kayaking, gardening, most genres of music, and photography as an art form.
Eric Beach, Regulatory/Permitting Specialist (not pictured)
Eric has been actively involved in forest management, regulatory compliance and land use policy over the last 25 years. He was an environmental scientist with Weyerhaeuser and the environmental manager for Green Diamond Resource Company NW timberlands prior to coming to King County DNRP as Regulatory/Permitting Specialist in 2017. Eric works with private forestland and farmland owners to help them navigate regulatory and permitting challenges. Eric enjoys skiing in the winter, golfing in the summer and travelling whenever time and money allow.

» Back to King County Forestry Program