The Lake Stewardship Program
Protecting the lakes of King County, Washington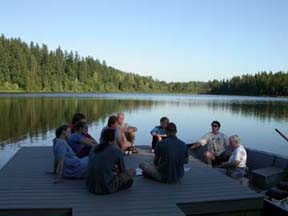 We empower citizens to act as stewards of their lakes and watersheds through education and technical assistance.
Our reports, recommendations, and management plans are based on the best available scientific information related to water quality and ecosystem integrity of the small lakes in western King County.
Latest reports and presentations
A workshop on aquatic plant identification and regulations for control was presented in Maple Valley on August 27, 2014, in collaboration with the City of Maple Valley. There were two presentations, and the PowerPoint slides are available as PDFs through the links below.
If you have questions, please contact Rachael Gravon or Chris Knutson from King County, or Nathan Lubliner of Washington Dept. of Ecology.


New to lakeside living? Need some fresh ideas for caring for your lake, home and yard? Want to share helpful tips with your neighbors or community club?
Check out the 50 ways to love your lake poster
For questions about the Lake Stewardship Program, please contact Rachael Gravon, Water Quality Planner or Chris Knutson, Project Manager.