About us
Lake Stewardship Program
In recent years, people in King County have voiced a growing concern over the health of the region's ponds and lakes. Some of these water bodies have remained clear and inviting, while others have become more shallow, cloudy or clogged with algae and/or aquatic plants. Residents worry about whether they can safely swim, boat and fish in these ponds and lakes, whether they still provide high quality habitat for fish and wildlife and how the changes will affect property values.
In response to these concerns, King County's Water and Land Resources Division (WLRD) established the Lake Stewardship Program in 1993. By offering advice, training, technical expertise and grant sponsorship, this program helps people monitor and manage the County's many ponds and lakes.
Volunteer monitors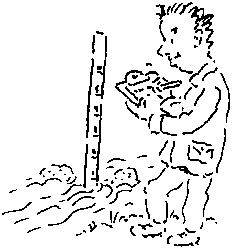 Lake Stewardship Program staff teach volunteers reliable, consistent and accurate methods for monitoring the health of their lakes and ponds. The baseline information gathered by monitoring can be used to assess long-term trends and support future actions to protect aquatic resources. Volunteers learn to measure physical and chemical parameters that serve as indicators of lake conditions and health. Data collected by volunteers are reported in Lake Steward, the Program's quarterly newsletter. Technical Assistance WLRD's scientists and technicians share their knowledge about lakes with individuals and groups by:
Making presentations to lake associations and community groups. Offering workshops about aquatic plant control, water quality monitoring and shoreline best management practices.
Producing lake stewardship brochures and a quarterly newsletter with current information on lakes and watershed protection activities.
Aquatic plant management
Obtaining detailed information about aquatic plants is the first step in developing strategies for controlling species that have overpopulated the lake or are causing problems. The Lake Stewardship Program trains volunteers in plant identification and mapping and provides local residents with the most current data and control options for aquatic plant management.
Helping people get involved and take control
The Lake Stewardship Program assists communities that want to form lake management districts- voluntarily formed special-purpose districts for funding the implementation of lake protection and improvement activities. With help from WLRD's Lake Stewardship Program, community groups can influence lake management decisions and raise funds to care for their lakes and associated watersheds.
Grant sponsorship
In most cases, community groups may not be eligible for state and federal grants on their own; these grants must be sponsored and administered by a local agency. The Lake Stewardship Program can serve as an intermediary for community groups, helping them obtain grant funding through the State's Aquatic Weeds Management Fund, the Centennial Clean Water Fund or other programs.
Lake information resources
Lake Stewardship Program (King County WLRD)
General Information 206-296-6519
Volunteer Coordinator 206-296-8008
Lake organizations
Washington State Lake Protection Association
P.O. Box 4245
Seattle, WA 98104-0245
(800) 607-5498
North American Lake Management Society
P.O. Box 5443
Madison, WI 53705-5443
(608) 233-2836
Publications
King County, Aquatic Plants: Identification, Benefits, and Management; 1994.
King County WLRD, Noxious Weeds: a Guide to Invasive Non-Native Plants; 1994.
Michaud, J.P., A Citizen's Guide to Understanding and Monitoring Lakes and Streams. Puget Sound Water Quality Authority, Olympia, WA; 1991.
United States Environmental Protection Agency, The Lake and Reservoir Restoration Guidance Manual, 2nd Edition. EPA-440/4-90-006. Office of Water, Washington, D.C.; 1990.
Washington State Department of Ecology, Blueprint for a Lake-Friendly Landscape; 1994.
Washington State Department of Ecology, Forming a Lake Association; 1994.
For questions about the Lake Stewardship Program, please contact Rachael Gravon, Water Quality Planner or Chris Knutson, Project Manager.