What we do
The Wastewater Treatment Division provides wholesale wastewater treatment services to 17 cities, 17 local sewer districts and more than 1.7 million residents across a 420-square-mile area in King, Snohomish and Pierce counties.
The division's 700 employees plan and design new facilities, regulate the disposal of industrial waste, educate the public about pollution prevention, and manage a regional system of treatment plants, pipelines and pump stations that operate around the-clock. Guided by a commitment to sustainable communities, WTD remains focused on resource recycling and renewable energy production as part of its effort to attain carbon neutral operations.
2018 accomplishments
Rainier Valley Wet Weather Storage project
The new combined sewer overflow (CSO) underground tank and sewer pipelines were completed and are ready to serve Seattle's North Beacon Hill and Columbia City neighborhoods by controlling stormwater and sewage into the Duwamish River during heavy rain. Designed by in-house engineers, it demonstrates division employees' capabilities on complex interdisciplinary projects.
Denny Way Regulator Station upgrade
Construction work was completed at the Denny Way Regulator station in Myrtle Edwards Park on Elliott Bay, which is a part of the Mercer/Elliott West system. The sampling equipment was updated and a sampling room was added to the facility.
Summer treatment plant maintenance
Operations employees were able to complete summer equipment maintenance projects at the South, West Point, and Brightwater treatment plants. Plant improvements included gas-water separator installation, water reuse facility upgrades, vital controls testing and digester cleaning and repair. While the maintenance often takes complex coordination and timing with operations, it greatly increases system reliability, protects employees, and increases the level of service to a rising number of ratepayers in the growing region.
South Magnolia CSO pipeline installation
King County installed a new 3,000- foot pipeline in Seattle's Magnolia neighborhood in place of the existing broken pipe. The contractor used a trenchless construction technique called "pipe bursting," which uses a machine to pull a new pipe through the existing pipe corridor. The pipe will enable King County to store excess stormwater and wastewater from the combined sewer system until it can be treated at the West Point Treatment Plant. The Magnolia Wet Weather Treatment Station helps protect Puget Sound water quality during heavy rains.
Equity training
Making good on its commitment to and support of racial equity and social justice (ESJ) training, 700 WTD employees received special ESJ training in 2017-18. The training enhances employees' understanding of the concepts of racism and privilege and how they manifest in the workplace. The efforts are to ensure the division's workplace culture is one where everyone can experience respect, dignity, and feel engaged to perform well.
Sustainability award
King County's Georgetown Wet Weather Treatment Station earned the coveted "Platinum" rating from the Institute for Sustainable Infrastructure's Envision rating system. This is the first Platinum-awarded Envision project in Washington. The Institute for Sustainable Infrastructure's Envision rating system assesses sustainability in five categories: quality of life, leadership, natural world, resource allocation, and climate and resilience. These contribute to positive social, economic and environmental impacts on a community during the planning, design and construction of infrastructure projects.
Outlook
In 2019 and beyond, WTD is working on the Clean Water Plan for expected growth in the region. Planning and building new wastewater infrastructure is complex and can take a decade or longer from initially identifying a project need to completing an operational facility.
Over the next few decades, the region will invest billions of dollars in King County's wastewater treatment system. With many pressing priorities arising, King County is planning ahead so that the right investments are made at the right time.
In addition to the Clean Water Plan, the division is working on several upcoming projects: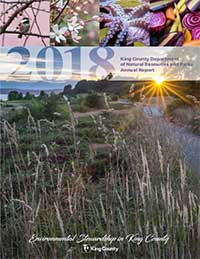 Environmental Stewardship in King County, 2018
"Environmental Stewardship in King County," the 2018 Annual Report for King County Department of Natural Resources and Parks, describes the department, what it was tasked to do and what it accomplished in 2018. The report provides maps, facts and figures to convey the breadth of department responsibilities and includes overviews of executive initiatives, performance measures and results, and awards won by the department in 2018.