Eastside Interceptor lining
In Renton
Wastewater Treatment Division (WTD) operations and projects
WTD operations staff remain on the job 24/7 to ensure the region's wastewater treatment service continues. More information on how to report a problem you believe may be related to the County's wastewater treatment system is available here: https://www.kingcounty.gov/depts/dnrp/wtd/response.aspx
The King County Wastewater Treatment Division remains committed to sharing information and gathering feedback from community members about its work and projects. WTD staff remain available to answer questions via email and phone during regular business hours. Project information lines remain available and are being monitored for ongoing construction projects.
Project updates
The repaired pipeline became operational in November 2019. Restoration and final project completion are expected in the Spring of 2020. View final project update (March 4, 2020).
Project description
The Eastside Interceptor (ESI) is a regional sewer line that carries wastewater from eastside homes and businesses to King County's South Treatment Plant in Renton. This project repaired approximately 3,700 feet of the line by installing a liner on the walls of the pipe.
The project followed Logan Avenue North, from around the intersection of Garden Avenue (The Landing Shopping Center) on the north end, to near North 6th Street between Logan and Burnett Avenue North at the south end of the project. View project area map .
Project schedule
Work began in the spring of 2019 and the pipeline became operational in November 2019. Project restoration should be complete in the Spring of 2020.
Why did we need this project?
The Eastside Interceptor is one of the main sewer lines that bring untreated wastewater to the treatment plant in Renton. This line starts near Kirkland and runs south on the east side of Lake Washington. It is eight feet in diameter by the time it gets to the project area. The pipe is aging and was reaching the end of its service life. It is over 50 years old and corrosion was found in parts of the pipe. The pipe needed to be repaired so it does not fail, overflow or disrupt service.
What are the benefits?
This project will allow the pipe to stay to be used for at least 50 additional years. The pipe lining approach reduced the surface impacts compared to replacing the line.

For information about the project
For questions about the project, contact Eunice Lee at:
elee@kingcounty.gov
Project location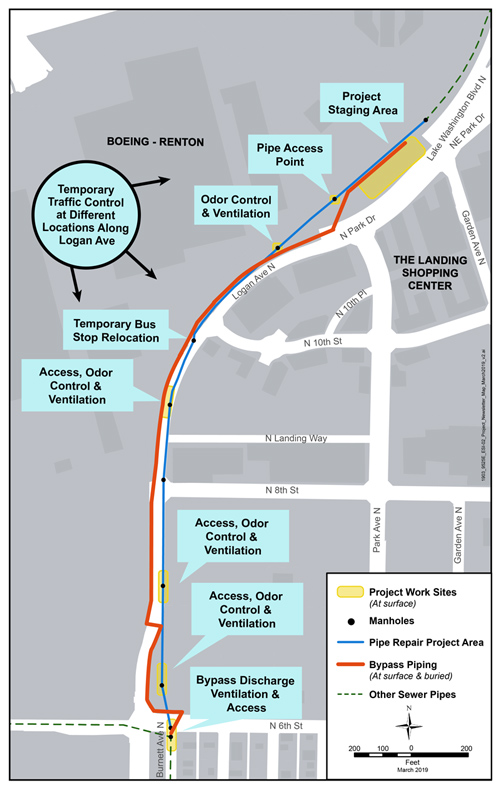 Project area map
Learn how King County repairs and protects pipes from degradation using a technique called "lining." See the above- and below-ground processes used to apply an adhesive liner to the sewer pipe's interior and to keep crews working inside the safe.
Visit Software Help if you have trouble viewing or downloading documents.