Public involvement
West Duwamish CSO Control
Working with the community
This project will protect the investments being made to clean up the Duwamish River and it will continue creating a better, cleaner river for South Park, and the region to enjoy.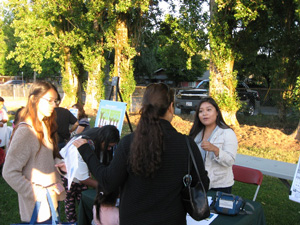 King County works with communities to provide project information, identify potential impacts, and involve the community in project design where possible. Community members can expect:
One on one outreach to directly impacted neighbors
Neighborhood meetings
Community group briefings
Project newsletters and fliers
Project web page updates
News releases
King County's commitment to sustainability and Equity and Social Justice
King County has prioritized sustainable development and practices that support Equity and Social Justice (ESJ).
The County's sustainability program provides a green building guide for infrastructure projects. On this project, we'll look for sustainability opportunities at the storage tank site and in the South Park neighborhood. We'll be seeking input in 2018.
King County promotes Equity and Social Justice in design, construction and management of infrastructure projects so communities can thrive. This means we are committed to taking feedback from the community, and you can expect to see us working with community groups in the project area to ensure that the project reflects neighborhood values.
Learn more at www.kingcounty.gov/equity
RainWise!
During early outreach about this project, we learned that many South Park residents are excited about raingardens and other "green" solutions to keep polluted runoff or storm water out of the Duwamish. The RainWise program provides rebates that cover up to 100% of the cost of installing rain gardens and cisterns that will help manage runoff. To hear more stories about community members please view our newsletter .
If you want help getting started, call Environmental Coalition of South Seattle at 206-767-0432.
Please contact us if you would like to be on our project email and/or mailing lists, and watch this site for updates!