How King County controls odor
Being a good neighbor by controlling odors is a part of the normal operation of every treatment facility. We continuously monitor our existing treatment plants, pipeline network, and pump stations for odor releases and we respond in the following ways:
Add chemicals or biological enzymes at certain points in our pipeline network
Install odor scrubbers using either wet chemicals or activated carbon in high-odor areas
Chlorinate wastewater entering the treatment plant
Continually explore solutions to odor issues
Respond immediately to citizen complaints
The Wastewater Treatment Division makes every effort to respond to odor complaints promptly and effectively.
A regional system
The King County Wastewater Treatment Division protects public health and our regional waterways by safely transporting and treating wastewater from much of King, south Snohomish, and parts of Pierce counties. Over 350 miles of pipes carry wastewater from areas as far north as Mill Creek, east as Black Diamond, west as Vashon Island, and south as Lake Tapps. Thirty-four local sewer districts within the wastewater service area own and operate local collection systems and send wastewater to King County's larger pipelines. Local agencies are responsible for billing residents for wastewater collection and treatment.
Sometimes, sewer odors may come from your local system not the King County system. Each district is responsible for maintaining its system and controlling odors. Many King County sewer maintenance holes have "METRO" on the lid. If you wish to identify which sewer agency serves you, look on your sewer bill. Call your agency if there are odors near your house.
Odor control devices
Wet chemical scrubber – Foul air is forced through a "rain" of a chemical and water solution. The solution absorbs the odors.
Activated carbon scrubber – Foul air is forced through a bed of activated carbon granules. The granules absorb the odor.
Biological treatment – Foul air is passed through a biologically active filter (or scrubber) where bacteria digest contaminants and neutralize odors.
Chemical addition to the wastewater flow – Chemicals are added directly to the flow of wastewater, usually through a manhole at locations where odors have been troublesome. The chemicals reduce bacterial growth and neutralize odors.
Contained facilities – Some processes at the treatment facilities are enclosed in buildings, and the air is scrubbed before it's released into the environment.
King County continues to do extensive research and pilot studies to test and develop cost-effective, cutting-edge odor technology. Improvements are being planned at both treatment plants and throughout our system.
Sometimes odor prevention solutions can be as simple as resealing a manhole cover. Other problems can be more complex.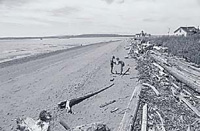 Some odors occur naturally, such as along beaches in the summer, and can't be dealt with by any agency. Don't be discouraged. It will go away with cooler weather and rain.